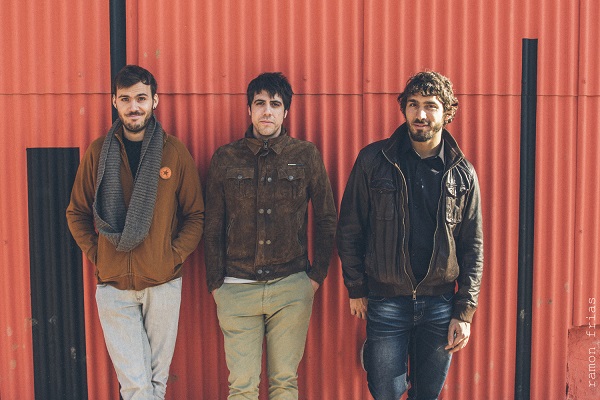 Tales from New Babel, the sophomore album from Barcelona-based trio Speaker Cabinets, touts a hooky, bright rock sound amidst an engrossing sci-fi concept. Complemented by six music videos, the release balances punchy, accessible hooks with an immersive conceptual pursuit, conveying a narrative surrounding "siblings Suzan and Alan May, and their fight for the rights of the people of New Babel."
The opening "Ghost Town" rouses with its energetic immediacy. "Take me from this place," the vocals emit with a steady confidence, complemented by vibrant guitar pushes. More debonair confessions — "deep inside, we know it's a lie," — traverse seamlessly into perky, wordless vocal infection, further emphasizing the band's eclectic tonal strengths. This is a powerful, melodic opener that kicks off Tales From New Babel in replay-inducing form, while also proving lyrically suggestive of a futuristic (or not so distant) dystopia.
Multiple vocal layers, shimmering synth nostalgia, and anthemic guitar power the subsequent "The Fall," whose lyrics deliver personal experiences of mutual reliance and challenges ahead, acknowledging a need to "have to fall before you fly," in emphasizing the struggles to fulfill equal justice. "Suzan May" continues the compelling production, this time intertwining prancing piano and melodic guitars for a convincing dreamy pop arsenal. The bouncy "can you feel it?" sequence proves especially resonating.
Another standout, "Reflexions" wastes no time in bursting with guitars and enthused vocals from the get-go. "Everybody's alone in this lost generation," they letout. "Inside a prison of stone." The themes of struggle and perseverance continue effectively, representing a struggle to assume control when powerful forces are in opposition. The "lost generation," hook plays with a poignant, anthemic shimmering. This track is further evidence of the band's knack for stadium-sized pop/rock hooks.
The album's second half continues the enthrallment. "The Pyre" features a bright synth swell that develops cohesively into more understated vocals, then converging with an impassioned rise during the "what's that?" questioning. A charismatic guitar focus follows with classic-rock appeal. Moodier synth integration shows on "Doomsday," with a Killers-esque appeal apparent in the post-punk guitar tinges and angsty vocal composure. The "I won't let you down," hook consumes in its melodic fervency and synth-rock meshing.
From the anthemic rock pursuits of "Ghost Town" to the atmospheric synth injections within "Doomsday," Tales From New Babel presents a stellar sound from Speaker Cabinets, who blend hooky rock/synth cohesion with poignant thematical aims.