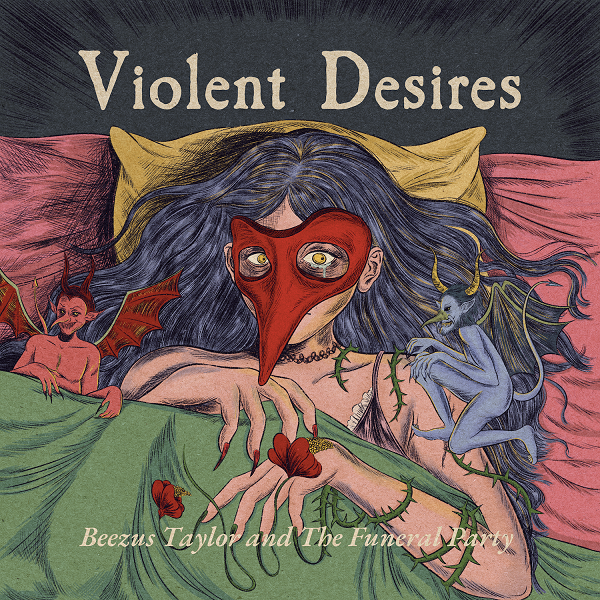 Some nightmares tend to linger — especially bad dreams that one experiences as a child. Perhaps it's the result of a wilder imagination, or the exposure to brand new concepts and images on a daily basis, but there's something about childhood nightmares that hold a haunting, visceral quality, compared to the more mundane task-related nightmares we often experience as adults.
Transforming the impact and descriptions of these nightmares into audible form can be daunting; it's difficult enough to make sense of them, after all. Violent Desires, the new album from Beezus Taylor and The Funeral Party, conceptualizes recurring nightmares the artist experienced as a child — with riveting, stylish engrossment. Each song represents a nightmare or some sort of cautionary tale, drawing from personal experience, folklore, and horror movies alike.
This successful thematic pursuit combines with forays into dream-pop, alt-rock, and synth-pop, excelling with a dynamic tonal captivation throughout. The opening "Children's Bedtime Player" opens hauntingly, reciting the opening words to bedtime prayer "Now I Lay Me Down to Sleep"  into more ominous retellings. "Those tiny imps return for me each night, and fill me with their violent desires," the vocals let out thereafter, haunting in conveying the fear of a recurring nightmare: "then back they pull me by my ankles to my doom," The opener makes very clear the nightmare-fixated concept, amidst a haunting production with chiming keys and ruminating string-laden undercurrents.
The nightmares/tracks that follow do so with uniquely engaging personalities. "The Chase" evokes a common nightmare scenario — running away from a threat — amidst pit-pattering percussion and post-punk guitar growls. The bells and murmured guitar distortion concocts an alt-rock nostalgia with shades of later-era Smashing Pumpkins or Placebo. "In your dreams, under your bed, you can't escape, I'm in your head," the vocals emit, assuming the role of a predatory force, and the enduring impact of nightmares and trauma in general.
Violent Desires has a plethora of darkly engaging soundscapes, though also a share of lusher instrumentation. "To the Other Side of Your Dreams" casts a more dream-pop glow with folk-guitar intertwining, evoking a Lynchian quality in the sweeping, dream-like state — feeling more contemplative alongside lyrical depictions of a cabin-trip turning into a horror film of sorts. "Misophonia" also compels in its dreamier synth-pop meshing, also enthralling in its lyrical commentary surrounding self-destruction "as the bombs detonate in my head."
The closing "What's Below" is especially powerful, serving as a responsive book-end to the opening "Children's Bedtime Player." Chilly, cinematic strings and haunting vocals combine with the lyrical ethos that "it's better the devil you know than the one that you don't." The concluding sequence — "Here I am, lying down to sleep / No nightmare shall plague me anymore," — exudes a cathartic escape from torment and nightmares, which can instill the "violent desires," referenced throughout. Violent Desires is a striking conceptual success from Beezus Taylor and The Funeral Party, rousing with its introspection on how unsettling memories — waking or not — can leave an enduring imprint.