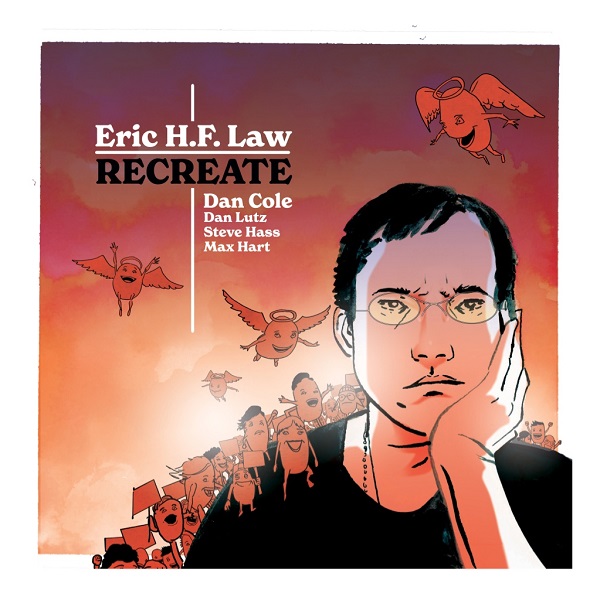 Your new album Recreate feels like an antidote in a crazy, bustling world full of tumult and hate — calling for action, rather than melancholy/anger. What prompted you to pursue this more introspective, tactful approach — as opposed to one of anger and frustration?
The prompt to create a brave and gracious approach to a world full of tumult and have dated back when I was living in Los Angeles in the 1990s.  After the 1992 Riots which were, among many things, an explosive expression of anger and divisions, as an artist and Episcopal priest working in the heart of Los Angeles, I was charged by the local civic and religious communities to find ways to heal our beloved city.  We got a FEMA grant, we got support from the Interreligious Council of Southern California.  I wrote a musical play with local high school students and performed all over Los Angeles engaging audiences in deep dialogue moving toward constructive actions.  I designed and coordinated dialogue groups – large and small – for two years – using music, art and conversation inviting people to listen, share and understand one another.
It seems like nothing much has changed since the 1990s as we repeated the cycle of destruction over and over again. In the last few years, there was no shortage of issues that triggered this cycle of destruction: amidst the pandemic, racial tension was heating up and people in the U.S. continued to be polarized, made worse by the presidential election and subsequent attack on the capital on January 6, 2021. This yearning to move from destructive divisive experiences to constructive and gracious potentials has always been at the heart of my musical journey.
I try to connect with my audience intellectually, spiritually and emotionally but never judgmental or paralyzing.  The title track of RECREATE depicts this journey well.  It begins with, "I lay down every night to rest my weary bone . .." and then I wake up to find hope, courage and grace the next morning to face another day so "we'll be kind and brave to stop hate and recreate a grateful day."  My hope is that this  album will inspire listeners to slow down and discover a deeper understanding of these divisive events and emerge from this journey a spirit of action rooted in our identity as human beings with memory of respect and kindness, with eyes that can see great things in the small and with a common connection to the LOVE that is our true identity – I love therefore I am.
In the last few years, my involvement with Braver Angels, an organization created after the 2016 election, the mission of which was to depolarize America, further prompted me to write and produce this album as our country urgently need this "soundtrack" to reconnect, to heal and to move forward constructively as one nation.
Is there an album from another that stands out in your mind, in regard to aligning with your ethos of using music as a method to investigate darkness in an overall intent to bring about light and understanding?
Billy Bragg's latest album: The Million Things that Never Happened.  His long musical career and journey – from Punk Rock to Folk – had been inspiring for me.  His songs came from a passionate love and care for the people of our broken world.  In the midst of songs challenging us to face the destructive issues of our time, he would sing about hope in "I Will Be Your Shield" and even joy in "Reflection of the Mirth of Creativity."  He was also quick to respond to a song called "Rich Men North of Richmond" which was being used in divisive ways by politicians; he wrote and uploaded on YouTube an alternative song called "Rich Men Earning North of a Million" that actually offered a solution.  You may not agree with him but I like that he offers actions that we can take to change our situations instead of just complaining.  Also, he is my age!
Your non-musical pursuits have been varied, from an electrical engineer to a priest of the Episcopal Church. Have any of these roles had a particularly profound impact on your work as an artist?
I was a computer process system designer – that is, I designed computers that worked in making whatever the machine was supposed to make.  If it didn't work, I debugged it and revised it until it did.  This tenacity to create something that would achieve its purpose is very much like writing a song: it takes a lot of debugging for the song to become a working inspiring creation that is worth sharing and repeating.  As for being an Episcopal priest, I was introduced to a non-violence and people-empowering understanding of justice and peace through my education at the Episcopal Divinity School.    So, my music, both religious and secular, are steeped in this tradition of working for healing, peace and justice.  No doubt about it, my religious experiences gave my songs more substance and depth than any engineering experience gave my songs working structures.
What's your favorite venue to perform at?
When I restarted my music recording "career" with my album: Up-Side-Down Town at the end of 2019, I had a vision of doing live-performances, traveling to New York City and across the country to market and share my songs.  But then a few months later, the country shut down: no more live performances!  So I started exploring what I could do via the internet and began to develop an audience by offering internet concerts, song circles and song-writing groups.  I learned very quickly how to sound good through Zoom.  The nice thing is that I can call up my lyrics on my computer and am able to look at my lyrics while I perform – at my age, remembering all the lyrics, especially a new song, can be a challenge.  So I actually like performing online.  This year, I am moving out to do more in-person performances.  Just last week, I was invited to give a concert for the local Café Europa – a social organization for family and survivors of the Holocaust.  I really like being invited to share with a specific audience because I can select from my repertoire songs that connect with them.
Do you have a specific process or ritual when creating new music?
I read at least a poem a day – some classics and some new ones; poems that rhyme and poems that don't.  Sometimes a poetic idea or image will prompt me to do more research on an issue that it inspired; accurate research is essential today since there is so much misinformation out there.  The next question I always ask is:  why does the world need a song on this topic?  Who will listen to it?  Is there a song about that already out there?  If someone has already written a good one, why not just learn it and do a cover of it?  Another question is whose voice is not being heard but important to record and amplify.  For example, in 'Who Tells Us,' I chose the voices of persons who were at the January 6 protest but became confused as to why they were there and began to question their identity.  That's a voice that has not been heard.
When a new song is taking shape, I will share it with my two online songwriting groups – one for the People's Music Network, called "If I Had A Song" and the other, for Braver Angels, called "SongSquare."  Getting feedback from audiences who are songwriters themselves are invaluable.  They can point me in a new direction that I have missed; they can help me change a word or a phrase and the whole song will come together. Since these groups meet once a month, I got into a ritual of working on a new song a month!
Any favorite artists or albums you're listening to at the moment? 
I have been listening to Roger Waters' (of Pink Floyd)  The Lockdown Session. Waters is another artist who never strays  from his passion for peace.  The Lockdown Session re-produced some of his classics like "Mother" and "Vera" but in a slower tempo creating an even more inviting sound which I tried to emulate in my present work.  I have a tendency is to rush my songs especially in live performances.  I have always thought of myself as a folksinger.  But since my album Better Angels was arranged by the gifted guitarist Dan Cole, I was finally able to see myself as more of a folk rock inspirational artist.  And Roger Waters' music is very inspiring to me as I live in that arena of sound.
If you could collaborate with any artist, alive or dead, who would it be? 
Of course, I would love to collaborate with artists like Billy Bragg and Roger Waters.  I am still in awe of artists like Jackson Browne who are still putting out political and musically relevant music.  As for collaborating with younger artists, I would love to work with Sons of Serendip – they situate themselves in between classical and pop and have a very diverse fan base.  And I would love to work with Rufus Wainwright for similar reasons: he crosses and integrates multiple musical genres creating challenging music both in sound and content.
What do you find is the most satisfying part of being an artist? 
I was working on a song about the experience of losing a loved one slowly to Alzheimer's disease.  It's one of those songs that didn't write itself but needed to be written since no one  had said these feelings and experiences out loud in songs.  As the lines of the song came together painfully, they tell my story of waking up with someone I love breathing by my side and I wondered while he slept last night, what part of him had died.  When the song finally took shape, I shared the many drafts with different groups and almost everyone cried.  Many said this is an important song because it will connect and support many who are going through this horrible experience.  This is the most satisfying part of being an artist – to be able to connect with people in deep and authentic ways without being preachy, or condescending, or trivializing the complexity of life.
What is the biggest challenge you find in today's music industry? 
With Spotify and other music streaming services, the music industry has been decentralized in that artists like me no longer need to be signed by a record company to get my music out there.  Even though I don't need permission to share my music, making my music available is no longer a money making venture because professional studio recordings are expensive; so finding financing is a big challenge.  I have a Patreon account –  https://www.patreon.com/erichflaw – with a very small patron base who support my music making right now.  I do hope that it will grow to a larger group of supporters to finance my future recordings.
Secondly, I think people have too much music to choose from.  Some old-timers just give up.  Some listeners are like butterflies hopping from one song to another, from one artist to another without diving deep into the soul of what is shared by a particular artist.   Call me old-fashioned, I missed the day when I bought a vinyl album and with anticipation, listened to the album from beginning to end and then listened to it all over again.  I loved the concept albums like Marvin Gaye's "What's going on?" and  Pink Floyd's "The Wall."  So the challenge is to figure a way to tell my story in 2-3 minutes hoping that if the song makes it in some playlists, it will catch the listeners' attention enough for them to seek out my music to get to know my whole story.
What's upcoming for the project?
I am working on a new album about amplifying the voices of the voiceless.  Just like RECREATE, this album will address tough issues of our time with creativity and hope.  Once I get the funding needed, I will get my band together in the studio to record.
Working with colleagues from Braver Angels, we are bringing together songwriters from diverse political leanings to have in-depth conversations on an issue and then collaborate on writing new songs to be performed in the same weekend.  We piloted this project with Gangstagrass as musical mentors at the Braver Angels National Convention this summer and it was a smashing success with 3 never-been-heard songs created on site and shared at the finale concert!  This project will facilitate the creation of more songs like the ones in RECREATE that seek to inspire understanding, healing and finding common ground in our extremely polarized world.
I will continue to offer monthly mini-concerts every third Friday of the month at 4 pm online via Zoom.  Go to my Patreon account and become a patron of my music-making.  There, you will be notified as to what's coming up – a monthly new song of the month, the mini-concerts, and other events.  You can become a producer of my music as well there.  Also, join me for the People's Music Network monthly workshop called 'If I Had a Song' where we share new songs and offer each other constructive feedback.  You can find that information on the People's Music Network website.  And finally, join me for 'SongSquare'—a monthly song-sharing time for Braver Angels, where we share and offer support for the writing of songs to depolarize America. At both of these songwriter gatherings, not only will you hear songs I am working on, but you will also hear and enjoy new songs by other amazing songwriters.