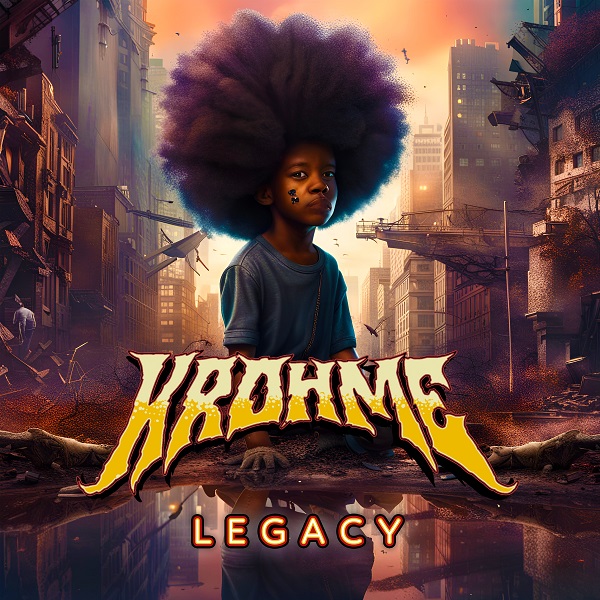 Veteran producer Krohme commands a riveting sound throughout the Legacy EP, whose hip-hop brilliance ranges from funky introspection to rock-ready vigor. The release pairs this eclectic production with appearances from an all-star cast of MCs, including executive producer Chuck D. The EP enthralls with spots from Daddy-O (Stetsasonic), Kool Kim (UMCs), Chill Rob G (Flavor Unit), Aaron "P-Nut" Wills (311), Speech (Arrested Development), The Impossebulls, and Cesar Soto (Ministry).
Multiple vocal sequences compel on the opening "Legacy," whose slap-friendly funk bass and spacey synths complement lyrical insight exploring the concept of legacy, and the enduring impacts of systemic decision-making. "The legacy is lies, murder, pain corruption, complicit in the system," the vocals let out, traversing into an "active shooter," bridge suggestive of the system's oppressive impact on youth. The project's veteran hip-hop insight is also touted, in enjoyable lyrical form: "Where I'm from, we take rapping as a blood sport, you either live, die, teachin', or you're being taught."
As the opener compels in its exuding of experience and introspection, "Come2getherNow" follows with ardent brass-laden energy with a quicker-paced allure. Speech (of Arrested Development) and The Impossebulls add their talents here, venturing between rhythmic spaciousness and funk-inclined brass spurts. The track's reprise also stirs in its heady guitar distortion, injecting a psych-rock raucousness into the intense hip-hop flow.
Both iterations of "Circle of Lies" invigorate, as well, featuring the legendary Chuck D. The reprise is particularly powerful in its references to "the holy war," and its oil-directed conquests, immersing with its political and anti-war sentiments in its rock/hip-hop fusing. The Legacy EP is a gripping hip-hop success, with the Virginia-based Krohme's production excelling in its eclectic range from rock-friendly charisma to smooth soulfulness.