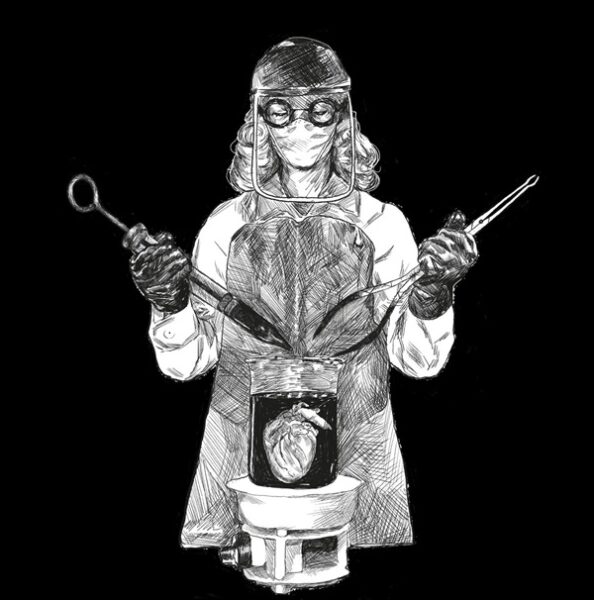 An album out today from Manchester, UK-based artist Quincey May Brown, Basic Surgeon shows a memorable sound propelled by harp and piano alongside Brown's riveting vocals. An introspective metaphorical envisioning of the human anatomy permeates throughout, as the album's protagonist assumes the role of a surgeon, dissecting heartbreak, complex friendships, and future potentials throughout an auto-biographical narrative.
The opening "Heart, I Hope This Email Finds You Well" mesmerizes with its gorgoeus harp and dark string-laden undercurrent, featured here, and the subsequent "Hands" furthers that arsenal with greater mystique and lushness, reminding strikingly of Joanna Newsom's spellbinding aesthetic. "And I'm learning that some of the prettiest things, are the biggest barriers to feeling free," the vocals let out, perhaps hinting at the temptation of sinking into one's embrace, even as dissolution remains a possibility. "And to this day I know it still hurts, to see certain scenes on the television," a touch of somber retrospection emerges.
Tales of obtrusive barroom antics, in the form of unwanted advances, are relayed with poetic appeal on "Bodies of Water." "And I don't mean to be rude fella, but not even if I was as old as Methuselah," they respond to such advances, when they're really "only here to be silly with my friends." The gentle harp and orchestral flourishes combine with a slice of reality — traversing between work and a night ourt, and repeat — and ample wit.
Another highlight emerges in the more piano-forward "She Lets Her Hair Down For Sure" relays similar character accounts, stirring with its quest for self-discovery and late night pursuits, from Soho clubs to "practice rooms eating quiches, trying to find musical niches." An album full of riveting songwriting and gripping lyrical prowess, Basic Surgeon is a thorough succeess from Quincey May Brown.
—
"Hands" and other tracks featured this month can be streamed on the updating Obscure Sound's 'Best of November 2023' Spotify playlist.