Posted
April 20, 2006 by Mike Mineo
in Features
MUSIC DOWNLOADS: Gaskets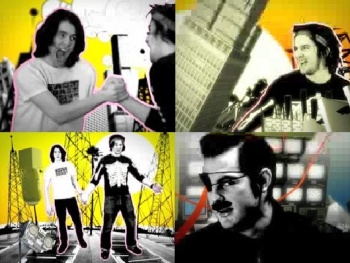 Gaskets are an electronic pop duo from Virginia, with a unique twist of very energetic vocals and catchy synth hooks. Ross Harman and Teddy Blanks are the only members of the band, but they both contain enough energy to compensate for any lack of a large band. Their music is really a blend of several types. Their music can be heard in comparisons to the Pet Shop Boys or a more aggressive New Order, but the vocals resemble more modern bands such as The Vines or an americanized Arctic Monkeys. Their debut Big Fun was released in 2003, and their follow up, Loose Change will be released later this year.
Loose Change has several gems, and Gaskets are a band that are very easy to get into. 'Left Hand' is one of my favorities off the album, as its catchiness is rather undeniable. The lyrics, while not incredibly deep or engaging, remain witty and fun to sing along to. 'End Game' shows off the correspondance between synth and percussion and 'Cold Busted' does a nice job of mixing a very nice acoustic guitar with some light synths, eventually falling into a catchy chorus. Off of the new album, I also recommend 'Eiffel Tower', 'Pennies And Dimes', and 'De Sunuke Sufain', all coincidentally all following each other on the album. If you're looking for some new addictive synth pop, Gaskets are a nice bet.
———————–
[audio:https://obscuresound.com/mp3/gaskets-left_hand.mp3]
———————–
[audio:https://obscuresound.com/mp3/gaskets-end_game.mp3]
———————–
[audio:https://obscuresound.com/mp3/gaskets-cold_busted.mp3]
———————–
Mike Mineo
I'm the founder/editor of Obscure Sound, which was formed in 2006. Previously, I wrote for PopMatters and Stylus Magazine. Send your music to
[email protected]
.