Posted
September 4, 2006 by Mike Mineo
in Features
Fujiya & Miyagi are turning Japanese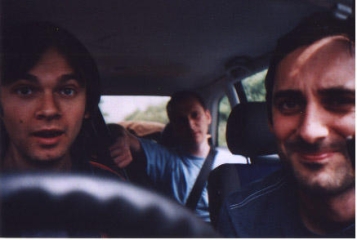 Fujiya & Miyagi aren't from Japan. Hell, they aren't even Japanese. Steve Lewis (Fujiya?), David Best (Miyagi?), and Matt Hainsby all originate from the UK, though the name is fun to say, so I don't think anyone is complaining. Another reason not to complain would be about the most vital thing: their music. David Best's subdued and soft vocals blend in very well with Steve Lewis' nicely arranged beats. The band has yet to find a drummer, but Lewis is doing fine with the machine so far. I don't think that should be shunned upon if it's done well, like it is here. Their second album, Transparent Things, is available now.
'Sucker Punch' has that Hot Chip feel to it, with a 70s porno bass groove mixing it up with an occasional guitar lick and light synths. The song has a nice feel to it, though the repetitious rhythm will turn some off after a few listens. I can promise that the song will certainly grab your attention on the first listen though. 'Collarbone' is much more lasting and eventually satisfying. The bass lines on Transparent Things are quite impressive, despite the sparse variation. If I was a high school health teacher, 'Collarbone' would probably be the easiest way for me to get students to memorize the anatomy of the bones in a person's body, as Best covers everything from the neck bone to the ankle bone. David Best's delivery of faintly spoken vocals even convery a hip-hop feel in this song, which proves to be entertaining and compelling. 'Photocopier' directs their name directly, with Best pronouncing, "we were just pretending to be Japanese" as one of the several hooks in the accessible 'Photocopier'. Several songs on the album primarily focus on the instrumental aspect, which technologically reminds me of Kraftwerk. The fact remains that their music is just as fun as their name.
—————————————————————————————–
Fujiya & Miyagi – Sucker Punch
[audio:https://obscuresound.com/mp3/fuj-suc.mp3]
—————————————————————————————–
[audio:https://obscuresound.com/mp3/fuj-col.mp3]
—————————————————————————————–
[audio:https://obscuresound.com/mp3/fuj-pho.mp3]
—————————————————————————————–
Mike Mineo
I'm the founder/editor of Obscure Sound, which was formed in 2006. Previously, I wrote for PopMatters and Stylus Magazine. Send your music to
[email protected]
.