Posted
October 16, 2006 by Mike Mineo
in Features
Julian Nation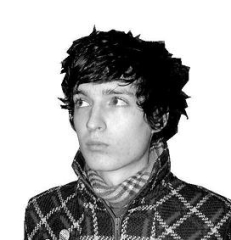 I'm usually one for quality over quantity. If you are as well, I strongly recommend Julian Nation, a young artist from Melbourne, Australia. All the songs recorded on his debut, We Are All Writers, were done when Nation was 19 on a four-track recorder. The album is ten tracks long reaching eighteen minutes, with the longest being 2:18. Remember though, quality over quantity is something Nation emphasizes as well. Upon first listen, a comparison to the sparkling pop of The Lucksmiths is almost immediate. Ironically, Nation claims that the first time he started writing music was on the way home from a Lucksmiths show. Another loose comparison would be to the almighty Jens Lekman, as Nation's storytelling of fascinating characters in seemingly unreachable locations is in a similar tone. Nation's fondness of Sweden is no secret, as Nation proclaims brilliantly on 'Lost Swedish Penpals', "For our three-page relationship, well, we both had our weaknesses: mine was broken promises, yours was broken English". The lo-fi sound that Nation expresses is touched by only a guitar, bass, glockenspiel, and a Casitone, with some occasional drums.
The imaginatively titled '÷' would be the best vocal comparison to Lekman, almost sounding exactly the same. The melodies on the album are really not complicated or striking at all, but Nation has the lyrical and vocal hooks that make the simplistic music worthwhile. "And this division leaves as the only remainder," Nation moans as he brilliantly compares a broken relationship to mathematics, "a reminder that these things only work on paper, so I wrote down both our names and tore them in two". 'Halloween River Cruise' is spoken from a personal perspective: "When I was sixteen, I first swore the promise that I wouldn't write songs for those I didn't like". So, get on Julian Nation's good side, he might write a brilliant two minute song about you. I wish to post every track from this brilliantly witty and interesting album, but I think everyone involved would benefit from the purchase. I just listened to the album three times in a row, but then again, that's only about an hour of my time well spent.
——————————————————————————————-
Julian Nation – Lost Swedish Penpal
[audio:https://obscuresound.com/mp3/jul-los.mp3]
——————————————————————————————-
[audio:https://obscuresound.com/mp3/jul-div.mp3]
——————————————————————————————-
Julian Nation – Halloween River Cruise
[audio:https://obscuresound.com/mp3/jul-hal.mp3]
——————————————————————————————-
Also: Press Gang Kids
Mike Mineo
I'm the founder/editor of Obscure Sound, which was formed in 2006. Previously, I wrote for PopMatters and Stylus Magazine. Send your music to
[email protected]
.