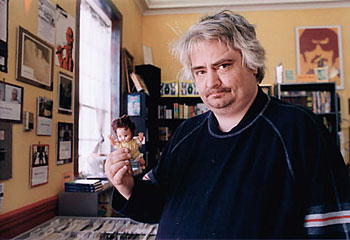 I know I'm late to the party, but I finally saw The Devil and Daniel Johnston. I've seen dozens of music documentaries, but I have to say this is one of the most engaging and most interesting to date. I started getting into Daniel Johnston's music a few years ago and found his freeform and artistic ability to be rare and refreshing. Prior to this documentary, I only had a slight idea of the mentally unstable and depressive mindset that Johnston had strugged with for most of his life, but I never fully understood how dramatic it was. I now look at his music as a more symbolic state of matter, as some of his song's meanings that previously went over my head now seem more comprehensible and fulfilling. Director Jeff Feuerzeig obtained some amazing footage, from Johnston's bright but troubling high school potential, his adventures in New York with Sonic Youth, to current interviews with Johnston himself. Such shots are particulary vivid of Johnston's personal emotions, such as the tragic expression of Johnston when shown old footage of his undying unrequited love, Laurie Allen (whom he wrote most of his songs about).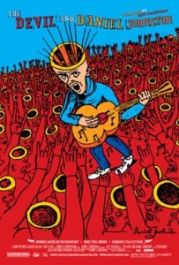 One of the most interesting aspects of the documentary is Feuerzeig's acquirement of old homemade films and audio clippings from Johnston's early years. Seeing Johnston's extreme artistic ability at such a young age is depicted to be comparable to such figures as Andy Warhol, as Johnston apparently had no artistic influences as he made his films, drawings, and music all from his ideas alone. While the movie is a triumph for fans of Johnston, it is doubtful to gain a new following of fans due to the lack of actual exposure of released musical material in the film (most of the music is from troubled live performances). The Devil and Daniel Johnston will certainly give others new knowledge on one of the most troublesome but brilliant artists of the past fifty years and I enjoyed every moment of it.
Google will probably be taking it down very shortly, but you can watch the whole film here.
——————————————————————————————-
Daniel Johnston – Casper The Friendly Ghost
[audio:https://obscuresound.com/mp3/dan-cas.mp3]
Daniel Johnston – Wicked World
[audio:https://obscuresound.com/mp3/dan-wic.mp3]
Daniel Johnston – A Little Story
[audio:https://obscuresound.com/mp3/dan-ali.mp3]
——————————————————————————————-