Posted
October 21, 2006 by Mike Mineo
in Features
The Purrs bring back some nice nostalgia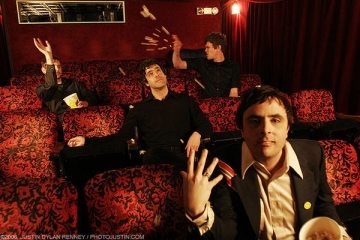 Clearly fans of 80s psychedelic post-punk, The Purrs have been making a name for themselves this year with their self-titled debut. While blending in the same atmospheric guitar twangs as their predecessors Echo & the Bunnymen and The Comsat Angels, vocalist Jima has the same aggressive swagger that the Verve's Richard Ashcroft or the Oasis brothers conveyed during the 90s. Jima doesn't mind the mind the comparisons that are given to him either, "I think the Verve and Galaxie 500 are great. Plus they had careers and I don't. You can compare me to a tree if it makes people want to buy our record." Based out of Seattle, The Purrs have been known to be one of those bands that would be glad to have a beer or two with fans after a show.
'She's Gone' has been the first staple from the band, recieving plenty of airplay from internet-based radio stations such as KEXP and WOXY. The song is predictable from a band in their position, giving off a chorus led by some "Ooh's" and a frantic guitar that is eventually concluded with Jima crooning "she's gone" over a variety of distorted effects. 'Ebb & Flow' is the track most reminiscent of Echo & The Bunnymen, with a buildup of momentous guitars caught up on reverb finally reaching the chorus about mid-way through the song. 'Taste Of Monday' is of a similar nature, reminding me of R.E.M. to the fullest extent, with the slight backing vocals really proving to be very effective in a song that is complemented by such a brooding theme of despair. Their debut is highly commendable with a handful of memorable tracks, such as the fantastic 'She's Gone' or 'Taste Of Monday'. It's available now on Sarathan Records.
——————————————————————————————-
[audio:https://obscuresound.com/mp3/pur-she.mp3]
——————————————————————————————-
[audio:https://obscuresound.com/mp3/pur-ebb.mp3]
——————————————————————————————-
[audio:https://obscuresound.com/mp3/pur-tas.mp3]
——————————————————————————————-
Mike Mineo
I'm the founder/editor of Obscure Sound, which was formed in 2006. Previously, I wrote for PopMatters and Stylus Magazine. Send your music to
[email protected]
.