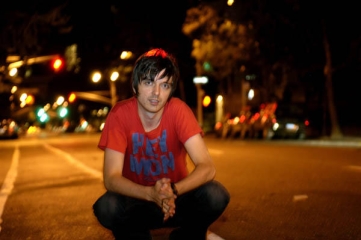 Something tells me that Matt Gorny isn't fond of being specific. Either that, or he has an admiration for every significant decade of modern music. When asked about the particular genre of his band, The Specimen, he simply describes it as, "a stirring, quixotic soundtrack fusing 60's psychedelia, 70's soft rock, 80's new wave and 90's brit-rock into one intoxicating and adventurous musical brew." Fair enough. As vague as the description may be, I'd have to agree. The Specimen's debut EP, Do U Damage, is a fantastic display of Gorny's musical grasp, grabbing hold of genres that were popularly executed years before his birth date. Gorny moved from Poland to Brooklyn, New York when he was twelve, immediately noticing how the city is such a diverse cultural melting pot. As his youth progressed, he learned to embrace the numerous cultures to create an effective musical environment.
The only continuously active artist that is easily contrastable to The Specimen is Beck, notably for his concept songs that strech from one genre to another in an instant. Most of the time, however, Gorny focuses on sensual electronic dance tracks often similar to David Wrench or James Murphy's LCD Soundsystem. 'Do U Damage' is catchy as hell, plain and simple. 'A Kick In The Teeth' sounds like Junior Boys on acid, while 'Do Ya Think I'm Sexy?' is properly initiated by the sound of an orgasm before Gorny launches into a sexually driven chorus that would fit well on a Right Said Fred album. Their debut EP is only six tracks, but most of them are very memorable with numerous hooks. They are worth checking out live as well, with Gorny recruiting a few friends to play drums, guitar, and bass.
——————————————————————————————-
——————————————————————————————-
The Specimen – A Kick In The Teeth
[audio:https://obscuresound.com/mp3/spe-aki.mp3]
——————————————————————————————-
The Specimen – Do Ya Think I'm Sexy?
[audio:https://obscuresound.com/mp3/spe-doy.mp3]
——————————————————————————————-