Posted
November 12, 2006 by Mike Mineo
in Site
CONTEST: "Pussy Cats" Starring The Walkmen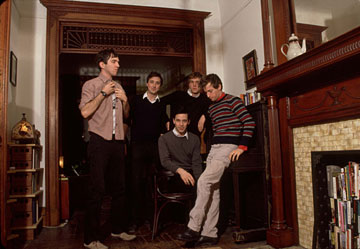 We have been given the opportunity to host a giveaway for The Walkmen's new album, "Pussy Cats" Starring The Walkmen. Well, it's not actually their album, figuratively speaking, but a track-by-track remake of Harry Nilsson's classic 1974 album, Pussy Cats. For those who are unaware, the story of Nilsson's Pussy Cats is quite interesting. The original album was created by Nilsson and his good friend, John Lennon. Both were infamous drinking buddies during the 1970s, with their alcohol and drug use making life busy for tabloid writers. After the two were banned from most of the prominent Hollywood nightclubs, they finally decided they should collaborate and work on an album together. During a secluded weekend, the original Pussy Cats was written and recorded, with Nilsson rupturing a vocal chord in the process. Recognizing the rare and privileged chance to work with Lennon, Nilsson kept his vocal issues a secret and continued the album with his voice fading in strength. This is something that The Walkmen's singer Hamilton Leithauser emphasizes well, on such tracks as the great 'Many Rivers To Cross'. Lennon's influence can still be heard significantly, especially with the Lennon-esque hook when Leithauser breaks out, "my women left me and she didn't say why" over a simplistically catchy bass line and dramatic strings. The cover of Dylan's always entertaining 'Subterranean Homesick Blues' is another highlight, while the dark 'Black Sails' portrays The Walkmen portraying their most natural sound with a heavy Scott Walker influence. The Walkmen's rendition of the album is a nice achievement that shows the band's influences and talents in a new light. Though there are a few songs that stumble, it is usually the same songs that did so in the original. Either way, it's a captivating take on an older album that often recieves little recognition.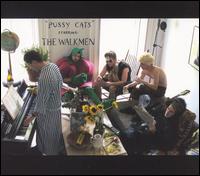 So, how can you win the album? It's easy and you don't even have to be talented to win. Usually in past contests, I have made the entries in short essay or creative form. This time, it's pure luck. Maybe I'm trying to reach out to the illiterate, but the truth is that I'm too busy lately with classes to give fair judgement towards dozens of entries. So, all you have to do is add Obscure Sound to your bookmarks at del.icio.us. I will randomly pick two winners from the list of people who have the site on their bookmarks, so please supply a valid e-mail address when you sign up for a free del.icio.us account. This is just the best way I can keep contests (based on luck) organized, without any cheaters getting in the way. I will ask the two winners their postal addresses, and I will ship out one album of "Pussy Cats" Starring The Walkmen to each winner for free. Best of luck!
——————————————————————————————-
The Walkmen – Many Rivers To Cross
[audio:https://obscuresound.com/mp3/wal-man.mp3]
——————————————————————————————-
The Walkmen – Subterranean Homesick Blues
[audio:https://obscuresound.com/mp3/wal-sub.mp3]
——————————————————————————————-
[audio:https://obscuresound.com/mp3/wal-bla.mp3]
——————————————————————————————
Mike Mineo
I'm the founder/editor of Obscure Sound, which was formed in 2006. Previously, I wrote for PopMatters and Stylus Magazine. Send your music to
[email protected]
.