Posted
November 17, 2006 by Mike Mineo
in Features
Unlucky Atlas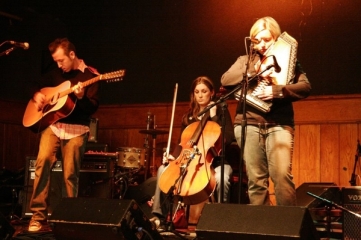 Many would claim that Chicago is one of the most important birthplaces of alternative rock, with bands such as the Smashing Pumpkins, Smog, and Wilco representing bursts of ingenuity from the local scene. Unlucky Atlas is a newest group out of Chi-town, all but avoiding the town's stereotype as a strict field of melodramatic alternative and grunge. Upon receiving their self-titled debut EP, I saw that the sleeve noted the instruments played on the album. Unlike the usual guitar-bass-percussion mixture, I saw instruments such as the mandolin, fiddle, cello, and autoharp all apparently coming into play. There is no denying that the four members of Unlucky Atlas are talented musicians, each one arranging and playing their specified instrument with passion and experience. Erica Burgner is responsible for the vocals and autoharp, an instrument that when used properly can be devastatingly effective in lyrically symbolic folk music. Having their sound tabbed as historically medieval by critics will be something that the band will have to adapt to, though I doubt they'll mind. If anything, it should be taken as a compliment that they can grasp a sound of the past and turn it into something modern. The same could apply to the recently critically acclaimed Joanna Newsom, though on a less smaller scale.
The length of the tracks on the EP vary from thirty seconds to nine minutes, with little space in between. 'Numbers' is the most accessible track on the EP, with a clear structure that focuses on the cello and acoustic guitar, both centering around the suitable vocals of Burgner. Kelly Rix does some excellent work with the cello, such as on the epic 'Forward Presence', which streches out to be over nine minutes. Though to young ears it may sound pretentious, the evolvement of each and every instrument in the group is displayed in full form, eventually reaching an outburst of instrumental emotion with a bearing collapse towards the end. Though songs in their debut EP occasionally sound similar and sometimes overbearing, the likes of 'Numbers' and 'Forward Presence' show that Unlucky Atlas is one of the most musically inclined groups to come out of Chicago in the past few years.
——————————————————————————————-
[audio:https://obscuresound.com/mp3/unl-num.mp3]
——————————————————————————————-
Unlucky Atlas – Forward Presence

[audio:https://obscuresound.com/mp3/unl-for.mp3]
——————————————————————————————-
Unlucky Atlas – Elegy (for Marla)

[audio:https://obscuresound.com/mp3/unl-ele.mp3]
——————————————————————————————-
Mike Mineo
I'm the founder/editor of Obscure Sound, which was formed in 2006. Previously, I wrote for PopMatters and Stylus Magazine. Send your music to
[email protected]
.