K-OS: Intelligent Hip Hop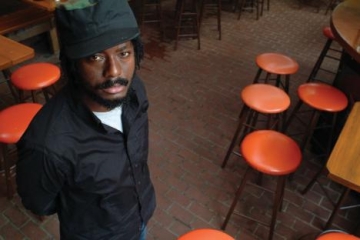 When the words "rock" and "rap" are both used to describe the same music, it's easy to assume it's just some trash. I mean, let's be honest here, the late 90's nu-metal explosion didn't exactly leave the best taste in anyone's mouth. But change some of the ingredients, throw in a little disco, and a lot more soul into the music and see what happens. K-OS (Knowledge of Self), born Kevin Brereton, successfully decorates his hip hop with anything he sees fit. Regardless of how fans of the gun toting bling bling school of hip hop may respond to him, K-OS is bold and his music is some of the most well-crafted you can find on a major label. A native Canadian of Trinidadian descent Brereton, through his lyrics, paints the picture of a black man frustrated by pressures to fit cultural stereotype, all while keeping an open mind and writing true music in spite of it. His lyrics are a shift between social commentary, emotional expression and frustration with the current state of hip hop, as he cites influence ranging from New Order to Slick Rick.
K-OS put out singles in 1993 and 1996, but before releasing an album, which he had more than enough songs to do, he withdrew from the spotlight, discontent with the direction he was going in. Finally, in 2002 K-OS put out Exit, followed by 2004's eclectic Joyful Rebellion. Though you might be able to pull a classification for songs like "Man I Used to Be" and the album's first single, "Crabbucket" as funk-hop, there are songs that are strictly hip hop ("B-Boy Stance") and non-hip hop songs (such as the reggae-rock "Crucial"). Joyful Rebellion understandably had 5 singles and won plenty of awards in Canada, but was unfortunately overlooked in the US, in favor of such American classics as "Drop it like it's Hot". Each album successively and successfully blends more genres together and at some points you even forget you were listening to an album you found in the "rap section". 2006's Atlantis: Hymns for Disco continues this pattern of explorative hip hop. At some point, listening to this album, you realize that not only is this man a true songwriter, but his voice is also great. Whether it's "Crabbucket"'s part two/parody/retake, the almost indie-rock "Born to Run" or one of the catchiest songs of 2006, "Black Ice Hymn 4 Disco", Brereton's voice, which was always good, truly shines. I heard he plays with a full band and I could not be more excited to see him come February.
——————————————————————————————-
[audio:https://obscuresound.com/mp3/kos-man.mp3]
——————————————————————————————-
K-OS – Black Ice – Hymn 4 Disco
[audio:https://obscuresound.com/mp3/kos-hym.mp3]
——————————————————————————————-
[audio:https://obscuresound.com/mp3/kos-val.mp3]
——————————————————————————————-