Posted
January 12, 2007 by Mike Mineo
in Features
The Dirty Novels prepare their second album, Pack Your Pistols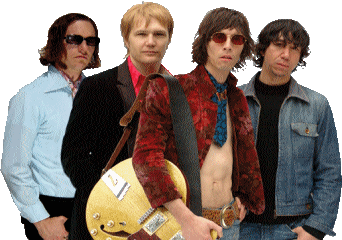 Judging solely from the photo above, I think it would be accurate to consider that The Dirty Novels may have a bit of an ego. But hey, when it comes to music, who says that's a bad thing? Alternative sensations from Oasis to Morrissey have all built their success with a steady ego in hand, challenging any individual who thinks they are higher and mightier. I suppose The Dirty Novels fit this stereotype, stating that their tours consist of "stealing hearts, shocking parents and winking at their daughters", while their music leaves "ladies flying in the aisles and the men speaking in tongues". While these comments would be more suitable for the second coming of Elvis, I could see how they would make sense. Well, sure, maybe only in their native Albuquerque, New Mexico at the moment, though this confident foursome definitely has the confidence and ambition to take over more than just their local residence. After sharing the stage with acts such as Kings of Leon and MC5/DKT and with their music appearing on a handful of MTV shows, The Dirty Novels' state of recognition appears to be steadily rising. They released their self-titled debut EP in 2004 and followed it up with their debut album Stealing Kisses the following year. They are set to release their sophomore album, Pack Your Pistols next week at a release party on the 19th, stationed at The Launchpad in Albuquerque. If they live up to their own praise, they'll blow your socks off. Their names seems rather fitting as well. Tracing back to the days before technology was so abundant, many individuals found a hobby in dirty magazines and novels. The Dirty Novels' often sound like a bit of throwback, occasionally like a tribute to the straightforward rock 'n' roll bands of the 60s and 70s.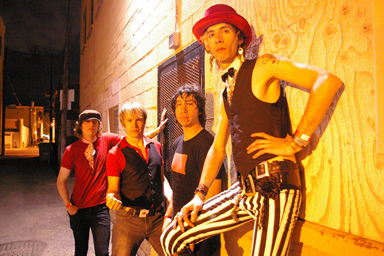 Their dirty and aggressive style is led by the swagger of lead singer, Pablo Novelas. Driven by the influences of classic rock and blues, all four members prove to be vital components in backing their spirited frontman. Novelas' vocal delivery is relatively similar in each song, though the lighter than usual 'His Perfect Love' shows a deeper touch almost reminiscent of Edwyn Collins in each of the verses, until his usual thin-voiced style takes over again. The usual for Novelas is perfect for their simpleton rock 'n' roll sound, with somewhat raspy abrupt lines blending in well with the involved distortion and rhythm. As displayed by the energetic 'Libertine In My Scene', Novelas certainly takes an influence from Mick Jagger, as most young artists of the rash Americana generalization do. The song proves to be a fitting opener to the album, demonstrating the band's budding personality in full effect. The Dirty Novels aren't bringing anything new to the genre — as they state, they're just a simple four-piece consisting of two guitarists, a bassist, and a drummer. There are few surprises in Pack Your Pistols but sometimes predictability is a good thing, as is the case with The Dirty Novels' second album. Each and every song flows with pride and youthful vengeance, not trying anything too risky but using a formula that has been proven successful. The band tends to compare this album to an "afternoon quickie", being short, abrupt, and enjoyably predictable. I couldn't agree more.
——————————————————————————————-
The Dirty Novels – His Perfect Love
[audio:https://obscuresound.com/mp3/dirty-his.mp3]
——————————————————————————————-
The Dirty Novels – Libertines In My Scene

[audio:https://obscuresound.com/mp3/dirty-lib.mp3]
——————————————————————————————-
The Dirty Novels – Stealing Kisses

[audio:https://obscuresound.com/mp3/dirty-ste.mp3]
——————————————————————————————-
Mike Mineo
I'm the founder/editor of Obscure Sound, which was formed in 2006. Previously, I wrote for PopMatters and Stylus Magazine. Send your music to
[email protected]
.