Posted
January 19, 2007 by Mike Mineo
in
The View is nice with their heads above the clouds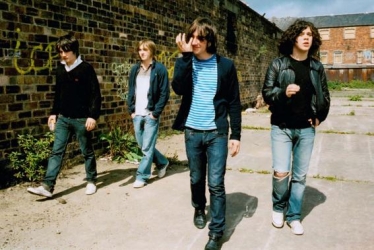 The View's debut album, Hats Off to the Buskers, hasn't even been released yet. Still, the hyped four-piece from Scotland has already been on the cover of NME, toured the world, gained over one million plays on MySpace, and were one of the most acclaimed bands during the Reading and Leeds Festivals as masses of newly convinced fans chanted, "The View are on fire!". So, how have they reached this rare status so early in their musical careers? It's simple, really. Just look at their singles. All three of them, actually. 'Wasted Little DJ's', 'Superstar Tradesman', and 'Same Jeans' have all had an impact on the UK charts, reaching spots as low as #11 for weeks at a time. With virtually every radio station in Europe playing The View nonstop, it's not hard to see why they are arguably the most popular newcomers of 2007, but the common question still repeats itself: does popularity equal quality and talent? In this contemporary age of music, the answer is usually and sympathetically no. The View can make a rare case against that though, as Hats Off to the Buskers is an outstanding debut from a youthfully exuberant group of talented young individuals. Forming in early 2005, they defined their sound very quickly. Practically embracing art-rock's catchy style that was immensely popular in the music scene at the time, it is entirely realistic to compare The View's sound to the familiar names of The Libertines, Kaiser Chiefs, Bloc Party, and Franz Ferdinand. Like their predecessors, The View also borrow a distinct influence from early British punk. In a sense, their formula is predictable but at times unstoppable, throwing in a numerous number of hooks inspired by pure wit and anticipated passion, blended with the emotional vocal performance of Kyle Falconer. Though some songs do contain little more than five chords, the melodies are what makes The View something special. Falconer certainly has the passion of Pete Doherty, even displaying a more impressive range, though equal comparisons to Doherty himself are still on hold at this point due to The View's initial musical boundaries. If Hats Off to the Buskers was released five years ago, the critical response would be significantly less harsh. However, the fact that it brings nothing new to the table in terms of ingenuity prevents any form of unspeakable idolization. It remains a popular opinion that the songs on the album are striving too hard to become radio staples, with similar effects and song structures emphasizing the formula, "if it isn't broken, don't fix it". It may not be broken, but it can occasionally become tiring in several spots throughout the album.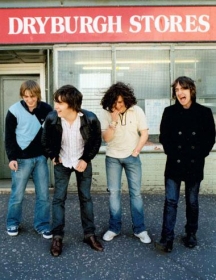 If one can look past the formulaic approach, Hats Off to the Buskers is incredibly easy to become engrossed in. Besides the three singles, charmers such as the acoustic-based 'Face for the Radio', the original fast-paced vocal performance in 'Skag Trendy', and catchy opener in 'Comin' Down' gradually peek through at points in the album. The presence of former Oasis producer Owen Morris is significant, as the crisp production is far from amateur. Much like the arrangements, the lyrical content is elementary but also relatable and enjoyable. With it being easy to relate, Falconer muses about daily life in his native Dryburgh, Scotland throughout much of the album, with the typical topics of fortune and sex also making themselves evident. The fantastic 'Superstar Tradesman' is certainly a solid example of this, as Falconer echoes, "I don't want money, I want a thing called happiness". Certainly, Doherty wouldn't be caught dead saying such a thing, though we all wouldn't be surprised if his damaged insides were hiding this fact. 'Superstar Tradesman' entered the UK Top 40 in October at #15. Though it had the shortest lifespan on the charts out of their three singles, it remains my favorite out of the bunch. 'Same Jeans' is a rather humorous tale detailing laziness at its finest, with Falconer even sounding a bit like The Undertones' Feargal Sharkey during each verse. 'Wasted Little DJ's' was their debut single, perhaps the song that you could say gave the band their big shot. Like most of their songs, it contains the usual infectious chorus and lovable forms of simplicity. I'm not sure if anyone can blame them for singing about sex, drugs, and fame. After all, they brought it upon themselves. Signing with the growing 1965 Records certainly boosted their reputation as well. When Hats Off to the Buskers finally releases on Monday, I'm expecting it to fly off the shelves. Could it top the Arctic Monkeys' record for fastest selling debut? I wouldn't go that far, though it will certainly place somewhere up there. As The View's singles demonstrate, sometimes simplicity isn't all that bad.
——————————————————————————————-
The View – Superstar Tradesman
[audio:https://obscuresound.com/mp3/view-sup.mp3]
——————————————————————————————-
[audio:https://obscuresound.com/mp3/view-sam.mp3]
——————————————————————————————-
[audio:https://obscuresound.com/mp3/view-was.mp3]
——————————————————————————————-
Mike Mineo
I'm the founder/editor of Obscure Sound, which was formed in 2006. Previously, I wrote for PopMatters and Stylus Magazine. Send your music to
[email protected]
.