Posted
March 31, 2007 by Mike Mineo
in Features
Obscure Sound: Best of March 2007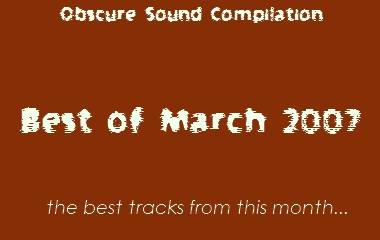 This is a new feature that I've been thinking of adding for awhile. Basically, seeing how many people seem to enjoy podcasts and compilations, I decided to collect fifteen of the most well-received songs that we featured this month. I'll be doing this at the end of every month from now on and I figure it will be convenient to those who are just casual readers.
All the tags are adjusted so you can just pop it into iTunes and it will show up as a compilation.
You can either download the files individually or through one big .RAR file. You'll need to download WinRAR to unpack it. Enjoy.
01. Pela – Lost to the Lonesome (post)
02. The Features – Contrast (post)
03. BlackFlower – Crying Shame (post)
04. Pleasure – Uptown (post)
05. Shiina Ringo – Gamble (post)
06. Voxtrot – Future Pt. 1 (post)
07. Flamingo Crash – Yes? Yes? Yes? (post)
08. The Attachments – Jessica (post)
09. The 1900s – When I Say Go (post)
10. Let's Go Sailing – Sideways (post)
11. Mumpsy – The Emperor (post)
12. Dappled Cities – Holy Chord (post)
13. Don Lennon – Our Bodies (post)
14. Spike Priggen – Everyone Loves Me But You (post)
15. Linda Draper – Cell Phone (post)
DOWNLOAD ENTIRE COMPILATION>>>
(64.5 MB, .RAR file)
Mike Mineo
I'm the founder/editor of Obscure Sound, which was formed in 2006. Previously, I wrote for PopMatters and Stylus Magazine. Send your music to
[email protected]
.