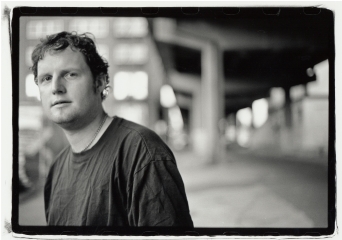 While most artists can be clumped into one accustomed genre, there are always those few who stay clear of the classification process. Casey Neill's newest album, Brooklyn Bridge, sounded like an ambitious sampling to me at first. The first song on the album, the self-titled "Brooklyn Bridge", was a flowingly electric country ballad that reminded me slightly of R.E.M.'s post-Monster career, showcasing an accessible though lighthearted nature. At that point, skimming the track-listing and seeing song names like "Colville Blues" and "Chainlink Fence", I expected the diversity of Brooklyn Bridge not to differ much from the opening track. That thought process indeed proved me wrong, as I ignored the fact that Casey Neill is a songwriter who looks down on repetition, a songwriter that always surprises his listeners with ingenuity, aggression, and liveliness. When the second song, "We Are The City", came on, I found myself with my eyebrows raised with surprise and delight. "We Are The City" does not even sound like it was written by the same artist who wrote "Brooklyn Bridge", but that's not necessarily a bad thing. After all, no one holds the desire to listen to the same replication of an opening track twelve times. This belligerent song works off of a continuous guitar riff and a distinctive organ (complementary of The Decemberists' Jennie Conlee), showcasing Neill's grasp of assiduous folk-punk.
It's slightly humorous that I was reminded of The Decemberists when I heard "The Holy Land" for the first time. Clearly sounding as if it derives from an era of swashbuckling pirates and misty pubs on a sea port, it features both The Decemberists' Jennie Conlee and guitarist Chris Funk (of the famed Colbert Report shred-off). I suppose it is no coincidence, as both The Decemberists and Neill spent a large portion of their lives in Oregon. You can almost smell the seashore on Neill's raspy whiskey-soaked voice as it interlaces itself over Conlee's accordion, Funk's banjo, and Neill's own assortment of guitars. The commencing three songs provide as archetypes for the rest of Brooklyn Bridge, fusing together a mixture of country, folk, punk, and fetching Americana. Neill's genuine small-town feel comes through in the enthusiastic "Chainlink Fence", with Neill proudly preceding the bursting chorus' hook with a naturally realistic line, "We cracked a can of Milwaukee, took free throws from the line, smiled as the neighborhood girls walked by and didn't pay us any mind." Tracks like "Chainlink Fence" and "Throw Me To The Dogs" are strong models for Neill's resourceful hooks, while lighter songs in the form of "Beautiful Night" and "King Neptune" show Neill's emotional durability and dare I say it, more passionate side. Accordingly, that "passionate" tag applies to more than just his music, as he is a notable environmentalist who sports an interest in old-fashioned protest music. His interest in environmentalism and fondness for punk and folk have earned him more than a few comparisons to influential British folk artist Billy Bragg.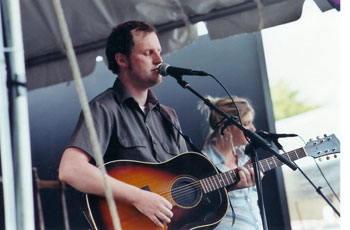 Neill currently resides in New York City, continuing to work with the all-star cast of artists that encompasses Brooklyn Bridge. Much of the album was also composed of Neill's past projects, including the Casey Neill Trio that contained multi-instrumentalist Zak Borden and fiddler Anthea Lawrence. Neill's first release came in 1995 with Riffraff, a folk-punk album consisting of twelve songs that embodied a strong political core. One of his songs, "Old Father Hudson-Sailing Down Dirty Stream", was a Pete Seeger cover that appeared on the Grammy nominated tribute compilation, Where Have All the Flowers Gone. Appearing on the same album among the likes of Bruce Springsteen, Donovan, Billy Bragg, and Jackson Browne, it was quite the first experience for the young and aspiring Casey Neill. Shortly after the glowing contribution, he was signed by Appleseed Records and released his self-titled album in 1998. In 1999, he formed the the Casey Neill Trio with Borden and Lawrence, releasing the critically acclaimed Skree that same year. After releasing two live albums, Memory Against Forgetting was released in 2005. Brooklyn Bridge was re-released this year and should garner a good amount of attention, generally based on Neill's consistency for quality songwriting. Brooklyn Bridge was dedicated to late Scottish fiddler Johnny Cunningham, additionally an influential producer who played a vital role in Neill's career as a mentor, friend, and collaborator. In addition to producing Skree, he supplied his fiddling to the elusive "Storyline", one of his last musical works before his death in 2003, respectably. Despite a few blatant missteps, Brooklyn Bridge is an enjoyable listen that explores several of Neill's honed genres.
——————————————————————————————
——————————————————————————————
——————————————————————————————
——————————————————————————————