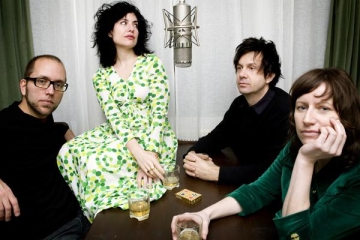 Similar to yesterday's feature, Elk City is another band with a fondness for melodically engrossing boy-girl duets. However, unlike Great Northern, Elk City is accessible and enjoyable from the initial listen, requiring a small amount of focus to sincerely enjoy the enticing songwriting of the NYC-based musicians. With a simple and effective attack, Elk City displays a variety of influences in their songs, from the Neil Young-inspired folk to the occasional hard rock of The Pretenders, they usually serve up enough diversity to leave their fans with a sense of satisfaction. The duo of singer/multi-instrumentalist Renée LoBue and drummer/producer Ray Ketchem have been writing songs together since 1990, which was when they formed their first band, the Melting Hopefuls. The Melting Hopefuls were always one of those bands that were considered to be at the edge of their potential, defining a niche of their own with the typical fanfare incorporation of early 90s alternative, folk, and experimental production. After releasing a couple of cassettes, the quintet released their first and only album, Space Flyer, in early 1994. Though the album received credible press and built a slight cult following, it never became much in terms of sales. Seeing that the band may have been too temerarious at the time for commercial success, three members out of five left the Melting Hopefuls after the release of Space Flyer, leaving only the original two members of Renée LoBue and Ray Ketchem. Still, they carried on and enlisted the help of guitarist Peter Langland-Hassan in 1997.
Being a skilled vocalist and proficient songwriter, Langland-Hassan appeared to be the band's missing puzzle piece for success. With his arrival, LoBue moved her duties from guitar to keyboards and the Melting Hopefuls changed their name to Elk City. As a trio, they released their first name under Elk City in 2001, the promising Status. They followed it up with the even more exceptional Hold Tight the Ropes two years later, progressing on the trio's mixture of folk, indie pop, country, and even shades of psychedelia. All three members played a pivotal role in both albums. LoBue handled all the keyboards and bass (which was actually a Fender-Rhodes piano bass), Langland-Hassan provided the band with great guitar tracks and a more diverse array of songwriting, and Ketchem takes care of the percussion and the majority of production. LoBue and Langland-Hassan often shared vocals, with duets becoming a common feature on both releases. Shortly following the release of Hold Tight the Ropes, Langland-Hassan regrettably left the group, leaving LoBue and Ketchem alone once again. However, as usual, the two kept on chugging along. To fill the seemingly insurmountable void that Langland-Hassan left, the duo gathered two musicians from two very reputable bands. Ketchem, being a notable producer, began calling some of the previous bands he had produced to see if anyone was interested. This included influential dream-pop artists Luna, who had just recently broken up at the time. The band's guitarist, Sean Eden, expressed a strong interest and joined Elk City shortly thereafter. The band also decided to finally grab an authentic bassist who did not use a keyboard, with Barbara Endes (ex-bassist of The Lovelies) also joining.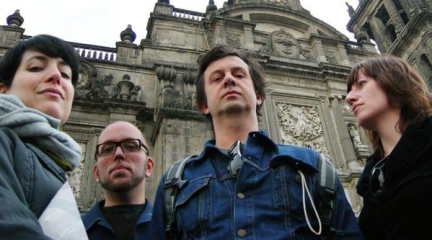 Early fans may be initially cautious of Elk City's newest album, New Believers, because it is the band's first attempt without Peter Langland-Hassan. However, those who can remember the days of the Melting Hopefuls will recall that they wrote excellent material before they had even met Langland-Hassan. Now, they have additional experience and the aid of two additional proficient musicians (Eden and Endes). All in all, New Believers lives up to most expectations. I have found both of their first releases to be of similar quality, with Hold Tight the Ropes holding a very slight upper hand. New Believers is certainly as enjoyable as the first two, though I would not venture to call it significantly better. Surprisingly enough, the band sounds even more refined without Langland-Hassan and LoBue appears to have written a few of her best songs on this album. Take "Los Cruzados" for instance, an excellent song that showcases a new side of Elk City. With Langland-Hassan gone and Ketchem working mainly behind the scenes, LoBue clearly establishes herself as the energetic source on the album. Her vocals have been compared as of late to those of Patty Smith, showcasing a new set of confidence that was not as inherently visible on the first albums. Eden and Endes also both prove to be essential additions, with Eden adding a touch of distinctive guitar effects to virtually every track and Endes improving a previously generic rhythm section. When LoBue chants, "Hallelujah", in the string-coated chorus, one cannot help but think of the band's musical advancements. It was only six years when their debut was showcasing a more aggressive style of generic, though enjoyable, alternative rock. Here, they present us with something entirely original from the band with Eden's constantly moving guitar proving to be another driving force behind the stellar continuity of LoBue's efficacious vocals. "Cherries In the Snow" is the album's opener, a good one at that. It's touched by a nice set of keys and a simplistically enjoyable structure, continuing with LoBue's tendency to only sing a variation of one word or so during the chorus. "Ooh la la!" she sings, mixing up the melodic impression after several listens. "You Got Me" begins as a charming piano ballad, eventually evolving into a capable song that sounds nearly retrospective of sparkling oldies pop. Though there are a few songs that fail to carry the load, New Believers is arguably Elk City's strongest effort and it proves that consistency is an aspect that the songwriting team of Renée LoBue and Ray Ketchem can demonstrate with pride.
——————————————————————————————
——————————————————————————————
Elk City – Cherries In the Snow

[audio:https://obscuresound.com/mp3/elkcity-che.mp3]
——————————————————————————————
——————————————————————————————