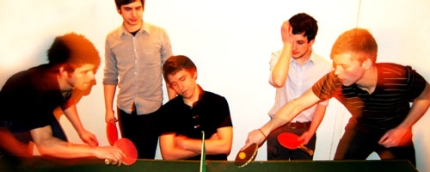 Ska's reputation has taken a bit of a beating in the past decade or so. There has been an uprising in artists who choose to take the unfortunate route of combining ska and emo brands together, resulting in a sound that sounds like nothing more than a whine and a jumbled mess. Even though the scene has recently been suffering, the early to mid-90s held a few respectable acts in the ska-punk genre, though it is quite unfortunate that we now see ska as being associated with nothing more than the mindless customers of Hot Topic and the obese skin-tight jean-wearing Western youths that occupy them. It almost causes some of us to forget the great ska-revival bands of the 70s and 80s. The Specials, Madness, and The English Beat were just a few of the associated names that truly set the tone in implementing brass, punk riffs, piano rhythms, and volatile guitar production in creating a highly memorable use of style and sound. Though the initial ska-revival movement was somewhat short-lived, it lives on to set a distinctive influence in contemporary music and will likely continue to do so in the coming years.
NYC's White Rabbits would hardly be classified as a ska band; their modern sound is much too refined to group them in there. However, to not render my above snippet completely irrelevant, their incorporation of ska elements is highly regardable and they implement it nearly flawlessly with their typical fare of indie-rock ingredients. Considering their acclaimed press reviews, you could say they are pretty much poised for the big time. NME called White Rabbits the third best band in all of SXSW, a pretty impressive proclaimation considering SXSW is a show in which it would be difficult to NOT find a hot new artist. They have also played with some big names, including Peter Bjorn and John, Richard Swift, and The Walkmen. I suppose my mentioning of ska and White Rabbits in the same sentence would primarily be attributed to the piano use from Steve Patterson. In each and every song from White Rabbits, Patterson seems to utilize a flavorful assortment in keys to truly give each song a definitive feel. Alongside guitarist Greg Roberts, he also plays the role of White Rabbits' part-time vocalist. His piano use is complemented by an eclectic array of musicians, including guitarist Alex Even, bassist Adam Russell, and drummer Matt Clark. Roberts and Patterson give off a commanding presence, only made even better by the band's outspokenly ambitious use of style, comparable to the excellent taste of The Specials.
The nod to The Specials is often unavoidable on their outstanding debut, Fort Nightly. Consider that a complement to the up-and-coming band. Songs like "Dinner Party" made me grin with the comparison, boasting an assortment of brass and keys that makes the song completely irresistible. If White Rabbits were around when Madness and The Specials were in their prime, you could bet that White Rabbits would have joined their ranks if they had a couple of releases as capable as Fort Nightly. Honestly, Fort Nightly will most likely be considered as one of the breakthrough debuts of 2007. It just has this sense of outward aspiration from a fresh act, something that is rarely come across. Rarely have I seen a new band come off sounding like they hold so much experience and confidence. Each song finds its own unique setting, whether it be the foreign and exotic "March of the Camels" with its high-pitched backing vocals and unique guitar scratch, the suave organ-led execution in "Take a Walk Around the Table", or the infectious guitar-pop of the colorful "The Plot". I suppose you can easily compare the vocal styles of Roberts and Patterson to the snarly aggression of Hot Hot Heat, though White Rabbits are visibly more musically capable with their diverse offerings of brass, rhythmic, and percussive accompaniments.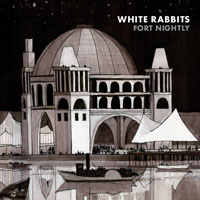 Fort Nightly was produced by Chris Zane (Les Savy Fav, Asobi Seksu) and is available on Say Hey Records. The cover to the album sports a painting of a mysterious Middle-Eastern temple of sorts (perhaps the geographical wizards can sort out the exact monument), which is entirely suitable with its exotic theme considering enticing songs like the enjoyably outlandish "March of the Camels" and the frantically exhilarating and unconventional percussion implemented in "I Used to Complain Now I Don't". Although those unlucky souls who have never appreciated ska-revival bands in the 70s and 80s will find Fort Nightly to be more of the same, most audiences will find to be one of the most exceptional debuts of the year.
——————————————————————————————
——————————————————————————————
——————————————————————————————
White Rabbits – Take a Walk Around the Table
[audio:https://obscuresound.com/mp3/whiter-tak.mp3]
——————————————————————————————