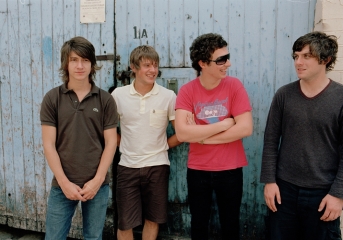 The Arctic Monkeys hardly need any introduction. The four lads from Sheffield have already established themselves as one of the most popular rock bands of the decade. Whether you are a fan or not, it is difficult not to admire the feats that the Arctic Monkeys have accomplished. Most of us know by now that their debut album, Whatever People Say I Am, That's What I'm Not, is the fastest-selling debut in UK history and it would be safe to assume that it will eventually be one of the records that people will look back on in twenty or thirty years to gain perspective on what defined this current decade of music, being a commercialized mixture of post-punk and indie rock (which many critics love to coin "art-rock"). Personally, while I always found several of the band's songs to be good natured and directly catchy, I never saw it as anything groundbreaking. While it will obviously never be remembered as the Nevermind of this generation, Whatever People Say I Am, That's What I'm Not and the Sheffield four-piece still deserve proper credit for seizing a contemporarily infectious style and writing stellar songs by implementing this "art-rock" craze successfully.
Admittedly, this site has hardly made any mention of the Arctic Monkeys since their media-frenzied inception about two years ago. That is purely intentional too, as my goal remains to provide people with new artists that would otherwise be overlooked. Generally every web site has written about the Arctic Monkeys before and there is little left to be mentioned. I also doubt that they would be able to consume any more attention before their egos would be liable to explode. Yes, I find the debut enjoyable like many others and I found it perfectly reasonable that it sold so well, as this is exactly the type of music that people are buying currently. In the early 90s we all loved long-haired guitar players with husky voices who delivered anthemic grunge and alternative rock-oriented choruses over heavy distortion. Now, witty (and often British) vocalists snarling confidently over swift riffs and tight percussion is all the rage and as I see it, there is nothing wrong with it at all. Styles change along with media perception and individualized taste. It does so dramatically every ten years or so and it should come as no surprise. So, what are my vague words trying to get across? Simple. If you enjoy something, keep listening to it and do not let overexposure impact your artistic tastes. In doing so, you will be more likely to participate in this thrilling contest which features one of the most popular bands of the decade…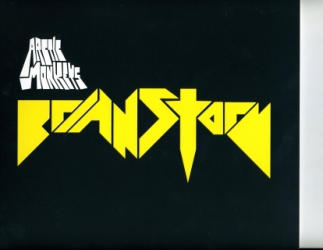 We are grateful to be giving away a free copy of the Arctic Monkeys' new 12″ single, "Brianstorm". It is the first track and debut single off of their enjoyable sophomore album, Favourite Worst Nightmare; a record that surprisingly avoids the expected sophomore slump by delivering twelve infectious songs that I personally consider to be overall more enjoyable than their debut. As most debut singles are, "Brianstorm" is one of the more enjoyable heavier tracks on the album. Being an accurate depiction of Alex Turner's always whimsical vocals and the backing band's precise execution of repetitious hooks, it certainly warrants several listens. While my personal two favorites on Favourite Worst Nightmare have always been "Fluorescent Adolescent" and "505", "Brianstorm" is certainly a credible opener and lively example of the band's youthful swagger. The "Brianstorm" single has already topped the UK charts at #2 with respectable positions on several worldwide charts. In case you were wondering, as the band told NME, the subject of the song (Brian) is about a mysteriously drawing young man that the band met backstage at a gig in Osaka, Japan. The very hectic video for "Brianstorm" can be viewed here, perhaps featuring a bit of a "Clockwork Orange" influence. So, how do you win this four-song 12″? It is quite simple…
To win: Whether or not you see this as an exploitable method to gain members on our NEW FORUMS is up to you, though I do admit it would be nice to have some active discussions on there. Anyway, all you have to do is register and reply to THIS TOPIC with the name of your favorite Arctic Monkeys' track. It can be from any album or set of demos. I will e-mail the winner on May 24th (next Thursday) and ask for contact details. The 12″ will then be shipped to you free of charge. The track listing for the 12″ is below and one of the songs, "Temptation Greets You Like Your Naughty Friend", features guest vocals by Dizzee Rascal.
"If You Found This It's Probably Too Late" – 1:32
"Brianstorm" – 2:50
"Temptation Greets You Like Your Naughty Friend" – 3:27
"What If You Were Right The First Time?" – 3:02