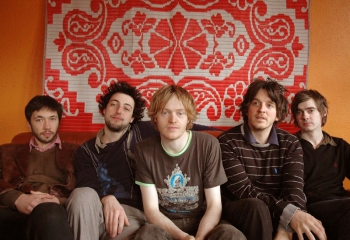 I imagine it must be somewhat frustrating for the talented lads in Polytechnic. Here they are, one of the only new British bands taking a respectable risk by not following the typical "art-rock" trend of Bloc Party or Franz Ferdinand. Yet, they still have to endure comparisons to a number of American counterparts in literally every article written about them (including this one). American counterparts? Indeed, while they are a British band, the strainy vocals of Dylan Giles recalls the likes of Marc Bolan and David Essex, in addition to a legend who Giles may have been named after. In a modern sense, most will not venture very far in Polytechnic's enjoyable debut, Down Til Dawn, before they gather a few immediate comparisons to the typical music blogger's favorite band of 2005. That's right, none other than Clap Your Hands Say Yeah! True, Giles' vocals could pass off as Alec Ounsworth's any day of the week, but Polytechnic's stylistic approach shows the band's intentions as determined to create something entirely original. In fact, anyone disappointed in Clap Your Hands Say Yeah!'s sophomore debut should certainly check out Down Til Dawn, as it is a much more consistent release. In addition to Giles on guitar, Denny Hilton on lead guitar, Yuri Caul on bass, and Tim Warren on drums, keyboardist Pete Earnshaw plays a vital role in the band's structural process. While they do throw in some occasional indie-pop traditions like clap-percussion and backing "oohs" and "aahs", the majority of Down Til Dawn is an enriching experience that blends together some of the most infectious indie-pop of the year.
Down Til Dawn is the band's full-length debut, highly anticipated after a succession of convincing singles. The band's formation came to be when all five members met at Manchester University in 2005. Unlike their fellow contemporaries, Polytechnic found success rather quickly. One of their first singles, "Man Overboard", was selected as the single of the week by both NME and the Sun, giving immediate recognition to a band who discovered their own sound rather quickly with all five members bonding over influences including Kraut-rock and British jangle-rock. A friendly amount of radio airplay earned them an opening spot for Doves, opening the band to a whole new fan base. Now, playing with such acts comes natural to the band, as they are currently touring with big names such as Keane, Brett Anderson, and The Shins. Speaking of The Shins, another apparent vocal comparison can be made between Giles and James Mercer, as drastically shown in Polytechnic's enjoyable cover of The Shins' "Caring Is Creepy", which is available on The Shins' 7″ version of "Australia".
Polytechnic's breakthrough single, "Man Overboard", provides as an accurate overall depiction of the band's structural formula. Using a consistent progression of Earnshaw's keys, Giles breezily utilizes his high-pitched vocals in a melodically capricious fashion as a boisterous piano-led chorus begins to erupt over the busy layers of guitars, rhythm, and keyboards. The chorus is comes off as enjoyably simplistic with Giles' clamoring of, "Man overboard! Man overboard!", though it proves to be a fantastic transition from a paced murmur to an excitable display of musical vigor. "Cold Hearted Business" is the band's newest single, being much in the form of their previous "Man Overboard". Both catchy and accessible, Polytechnic's gleefully aware pop music is practicable with occasional additions of experimental surprises that provide for an enjoyable amount of variety. This particular aspect is demonstrated in the excellent "Quay Street". Though the song begins with a few rough guitar riffs, Giles eventually slides into a melody slightly reminiscent of Ray Davies' work. The hook flows cleanly with successfully integrated keys and additional guitar work emphasizing Giles' emotional ascension. Down Til Dawn has yet to see an American release date, though it released in the UK yesterday. While the import price may be a bit too heavy for American listeners, I would strongly recommend the purchase if your wallet allows it.
——————————————————————————————
——————————————————————————————
Polytechnic – Cold Hearted Business

[audio:https://obscuresound.com/mp3/polytech-col.mp3]
——————————————————————————————
——————————————————————————————