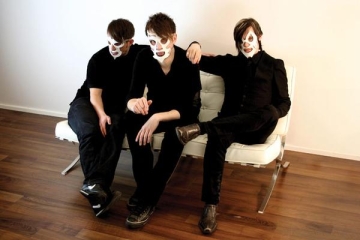 Anonymity is a concept that many artists revel in. While it applies primarily in the form of authors like Thomas Pynchon or J.D. Salinger, musicians can also be examples of this sociological preference. Jandek is arguably the most concise example of an "outsider musician", a musician who prefers no press and works in forms of singular seclusion. Artists like these primarily tend to be more respected among rational circles considering that these musicians have built dedicated fan bases through their music alone and not through over-publicized press or cynical media outlets. While The Conquistadors take too many promo pictures and send out too many press kits to actually be considered "outsider musicians", the trio can certainly relate to the particular ideals. Whether they are on stage or issuing an interview, all three of the members constantly wear white masks. Their objective, while stylistically memorable, has one clear intent. The Finnish trio want audiences to focus on their music and nothing else. Like the average youth consumed in unconventional music, they find to superficial tendencies of the music industry to be quite abominable.
The background information concerning the three members is as elusive as their faces. In fact, no one even knows their names. They call themselves Conquistador #1, Conquistador #2, and Nordman. What is known is that Conquistador #1 and Conquistador #2 are cousins of Lation American descent. When #1 paid a visit to his cousin, #2, in Vaasa, Finland a few years ago, #2 introduced #1 to his friend, Nordman, naturally of Finnish descent. If you were not able to keep up with the slight complexity of The Conquistadors' origins, all you need to know is that they are an up-and-coming trio based out of Vaasa, Finland. Their debut album, Mil Mascaras, was released earlier this year and is one of the most expansive debuts I have heard all year. Personally I am surprised that more buzz has not been accredited to this band, though I am sure we can all lay that on their ambiguous personal nature. Like their general appearances, the creation of Mil Mascaras proved to be quite odd. Instead of writing a batch of songs before heading to the studio like most bands, The Conquistadors wrote one song a day for nearly a month with no songwriting done outside of the studio. Perhaps it was an atmospheric preference. Or perhaps the three members are just quirky enough to pull their unconventional songwriting method off successfully.
The stylistic preference of The Conquistadors comes off as a creative fusion between synth-pop and exotic ambient experimentations, incorporating both catchiness with instrumental and structural innovation. While songs in the mold of their debut single "Daydreamer" sounds as if Erasure relied more heavily on guitars and actual percussion in their electronic pop approach, other songs on Mil Mascaras like "Started A Fire" and the chilling "Santiago's Funeral" both rely more on delicately crafted visions of lush atmospherics and sweeping melodies. "Started A Fire" is led by a twinkling set of reverbed keys, touched gently by deep vocals that are reminiscent of Cousteau's Liam McKahey or Erasure's Andy Bell. Whichever comparison you take more to heart, there is no denying the boisterous presence of the vocals in Mil Mascaras. They grab each song by the reigns and create sheer emotional power through pure intensity that rings deeply. "Daydreamer" should eventually prove to be a radio favorite among electronic stations, at the very least in Finland. "Something Good" is just as its name implies in being more catchy electro-pop goodness. However, considering the critical re-emergence of Erasure, I would not be surprised if American audiences pick up on this sharp act shortly. Mil Mascaras is an enjoyable debut that certainly warrants several listens.
——————————————————————————————
The Conquistadors – Daydreamer
[audio:https://obscuresound.com/mp3/conqu-day.mp3]
——————————————————————————————
The Conquistadors – Started A Fire

[audio:https://obscuresound.com/mp3/conqu-sta.mp3]
——————————————————————————————
The Conquistadors – Something Good

[audio:https://obscuresound.com/mp3/conqu-som.mp3]
——————————————————————————————