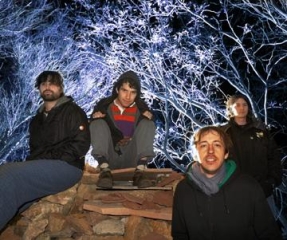 Oh no. Could this possibly be a short post with the sole intent to be "the first" to post these highly anticipated tracks? As much as I hate when other sites rush against the stampede to be the first to post a new track from the one of the hottest indie acts in the world without any commentary, I could not resist it this time. After all, this is Animal Collective. We will all be able to judge more precisely after a few listens but I was just getting a bit too antsy. As unconventional as this post is, these two tracks off of Animal Collective's eighth full-length album, Strawberry Jam, are absolutely outstanding. I have the first three tracks available and I will supply you with the first two — "Peacebone" and "Unsolved Mysteries".
If you thought that "Grass" was as pop-oriented as Animal Collective would get, wait until you hear the opener to Strawberry Jam, "Peacebone". With clear and present vocals uncharacteristically above the instrumental mix, I believe this may be the catchiest track that Animal Collective has produced throughout their illustrious career. Well, at the very least, it is already one of my personal favorites. Even so, the fans of ambition should not fret. Despite a brilliantly innovative chorus that sounds somehow both tropical and chaotic, their unconventional method of brilliant pop songwriting remains perfectly in tact throughout "Peacebone" with a backing vocal mix that provides for subtly captivating hooks. "Unsolved Memories" is more reminiscent of several build-up methods implemented on Feels, with an exotic array of instrumental additions providing for yet another enjoyable experience. As linear as my descriptions are at this point, I will not bother analyzing these tracks until I get my dirty hands on the new album.
——————————————————————————————
——————————————————————————————
Animal Collective – Unsolved Mysteries

[audio:https://obscuresound.com/mp3/anicol-uns.mp3]
——————————————————————————————
Do you love music?  If you are looking for the best deals on music, use our online music coupons to purchase all of your favorite artists.  Whether you are looking for indie music or mainstream music, our best buy coupons will allow you to find a huge selection.  Use our online coupon codes today!