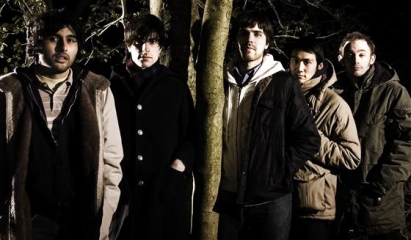 Hail Social are one of those bands that you can throw comparisons around all day for. Their eclectic mixture of synth-pop, post-punk, and most other genres with an included dash is both highly engaging and infectiously melodic, spurring some of the catchiest tunes of 2007 with their excellent sophomore album, Modern Love and Death. Hailing from Philly, this stylistic group has successfully followed and conquered the initially grueling path of a commonplace local band with big aspirations. However, unlike most other bands with humble beginnings, Hail Social made it to the big time based on rousing first impressions alone. Originally found playing exclusively to local audiences while selling their color-coded EPs solely at their shows, Hail Social decided to take the plunge into national exposure when they sent a few of their EPs out to various bands and publications who echoed their distinctive sentiment for deeply layered post-punk, addictive synths, tight rhythm sections, and vocal hooks that would cause even the most frigid of individuals to get up and dance. Surprisingly, the first band to respond were no small fries. Interpol quickly recruited the initial four-piece as touring partners, propelling Hail Social's recognition just in time for the release of their debut album, Hail Social, in 2005.
After the tour received glowing support and reviews, Polyvinyl Records quickly took notice and signed Hail Social to a deal. Regarding my previous claim that Hail Social are easy to distinguish in a comparative sense, it was a highly suitable signing as several songs on Modern Love and Death are reminiscent of the amusing synth-pop incorporation found in Of Montreal's releases, a band also housed on Polyvinyl. Even with the newly exposed synths rediscovered on the self-released Modern Love and Death, Hail Social's self-titled debut was more critically compared to post-punk godfathers Wire and post-punk revivalists in the vein of Franz Ferdinand and Bloc Party. Lead songwriter and vocalist Dayve Hawk distinguished himself as a talented driving force behind the band's alluring sound in the debut and followed it up with an even more impressive sophomore album. Recognizing that playing strictly post-punk will cause nothing but useless comparisons to other bands, Hawk decided to implement a more dance-oriented approach in Modern Love and Death. While "Modern Love and Death" and "The Fall" are more implicative of the more masterfully arranged tracks on Hail Social, Hawk seems revitalized with the release of Modern Love and Death. This time touching on synth legends like Orchestral Manoeuvres in the Dark, Daft Punk, and even a guiltless Hall & Oates, Hawk has truly found his stylistic niche.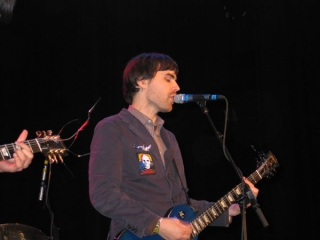 The absolutely irresistible opening track, "Annabelle", is a short but contagious song driven by a sparkling assortment of keys and a glitzy bass beat that makes the charm of the star-studded chorus even more ineluctable. "You're the only girl that I will ever love," Hawk sings as a prelude to the chorus, touched brilliantly by an additional guitar progression and an increased focus on the tight rhythm section consisting of bassist Dan Henry and drummer Matt Maraldo. Barely over two minutes long, this tale of sexual frustration and unrequited love left me begging for more. Fortunately, the second track, "Heaven" answered my prayers (ignore the pun) with ease. Being a strong indication of Hail Social's newly emphasized admiration for dance and modern disco, Hawk demonstrates the properly executed vocal maneuvers in the more dance-oriented tracks like "Heaven", "One U Love", and "Cherry Cola Funk". Managing to remain in key while attempting a variety of emotionally charged pop hooks, both songs utilize melodic charm and ravishingly addictive choruses for impressive durability. Tracks like these makes it hardly surprising that Hawk likens his own sound to "80s rollerskating music". Hey, if rollerskating music in the 80s was this good, that is certainly enough to cause the nearly nonexistent fad to become socially acceptable again… if roller skates are even manufactured anymore.
There are a countless number of aspects on Modern Love and Death to be impressed with. Whether it be Hawk's seamless vocal hooks, Dan Henry's faultless bass lines, or the gleaming incorporation of danceable synths, this is a thoroughly enjoyable album. It always brings a smile to my face when I see bands like Hail Social improve immensely on already impressive debut albums, attempting and succeeding in a style that represents the band as a significantly more mature incarnation of their originative beginnings.
——————————————————————————————-
——————————————————————————————-
——————————————————————————————-
——————————————————————————————-