Posted
July 1, 2007 by Mike Mineo
in Features
Obscure Sound: Best of June 2007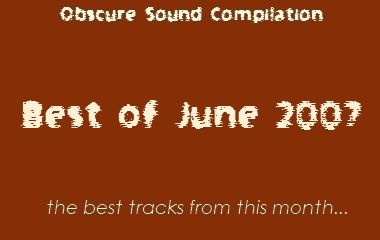 June was quite a splendid month. Several artists that will most likely make a few of my year-end lists. Enjoy this one.
As for a bit of self-promotion: today is my birthday. I can now be drafted but I still cannot legally drink. Nice.
01. Dondolo – A Question of Will (post)
02. Dogs – On a Bridge, By a Pub (post)
03. Animal Collective – Peacebone (post)
04. Bryan Scary – The Ceiling On The Wall (post)
05. The Silent League – Let It Roll (post)
06. LadybiRdS – Maxim and the Headphone Life (post)
07. Why Twist the Hair – She Wanted It (post)
08. Miracle Fortress – This Thing About You (post)
09. The Rumble Strips – No Soul (post)
10. Stuart Rosh & The Geniuses – Black Cherries (post)
11. Let's French – She Says She Loves Me (post)
12. 1990s – You Made Me Like It (post)
13. John Bustine – Miss Amputee West Culver County (post)
14. Picastro – All Erase (post)
15. The Cripple Lilies – The Charred Heart of the Tin Woodman (post)
Mike Mineo
I'm the founder/editor of Obscure Sound, which was formed in 2006. Previously, I wrote for PopMatters and Stylus Magazine. Send your music to
[email protected]
.