Posted
July 11, 2007 by Mike Mineo
in Features
Tangerine Dream Spends the Summer in Nagasaki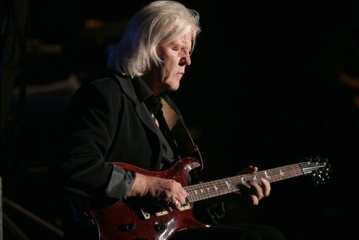 There are some artists who, despite a plethora of quality releases, can never quite manage to appeal to a mainstream audience. In the case of the historically influential electronic music group, Tangerine Dream, their sole reason for lack of commercial exposure can be attributed to their brilliant ambition and varying approaches. Though they are often cited as a "group", Tangerine Dream has been led by Edgar Froese since their formation over 40 years ago. Much like The Fall, Tangerine Dream has underwent dozens of various lineup changes, with Froese being the only consistent member during that lengthy time. Born in Russia during the midst of World War II, Froese displayed a proficiency for art at an early age, initially studying painting and sculpture in college. After studying visual arts, Froese began to explore the auditory art of music. After quickly building on his natural skills through a variety of local musical acts, he began to gather members for Tangerine Dream while in Berlin. Tangerine Dream went on to become one of the most influential acts in electronic music, blending into each decade with ease as their stylistic preference, much like their lineup, changed frequently and successfully.
During their memorably ongoing existence, Tangerine Dream has excelled in a variety of musical styles including Krautrock, minimalism, trance, dance, and epic ambient pieces that often found their way onto suitably atmospheric films. Phaedra, their breakthrough fifth studio album and debut for Virgin Records, was released in 1974 and is considered to be one of the most influential electronic albums of all time. The 18-minute self-titled track serves as the most accurate definition of a quality composition from Tangerine Dream. Cascaded in lasting melodies sequenced by synthesizers, keyboards, and Moog effects, "Phaedra" is considered to be a stunning example of Tangerine Dream's sincere, atmospheric presence. Whether it is the emotions that Tangerine Dream portray using the most minimal of instrumentation or the sheer staying power that they have endured throughout the years, Tangerine Dream has remained something of a special entity that remains synonymous to any conversation regarding electronic music.
In addition to over 100 releases with Tangerine Dream, Froese also boasts a respectable solo career that rivals the ambitious nature of his primary group. Now, at the wise age of 63, Froese continues to write and record music for both outlets. However, unlike other artists his age, his new releases are actually of distinguishable quality that actually continues to build in artistic achievement. Though Tangerine Dream currently sits at a duo involving Froese and Thorsten Quaeschning, their newest release, Summer in Nagasaki, was written and performed solely by Froese. Despite the sole effort, he decided to include it in Tangerine Dream's catalog instead of his own solo entity. The primary reason is that it is the second of a five-part series titled Five Atomic Seasons, the first of which featured three arrangements from Quaeschning. The story behind the origination of Five Atomic Seasons is quite interesting and makes the collection's appeal that much more enjoyable.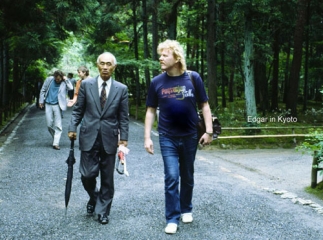 The development process began in November of 2006 when Froese received an offer from an 82-year-old Japanese businessman who went by the elusive name of Mr. H.T. As an individual who lived through and experienced the atomic bombings of Hiroshima and Nagasaki, H.T. felt that it would be proper to give the particular job to Tangerine Dream; an act known for their ability to interpret emotions through music. He emphasized the desire for the collection to be five separate releases, each lasting 54 minutes. The first two releases represent H.T.'s life in Nagasaki during the spring and summer of 1945, the latter of which artistically displays the emotions felt prior to and during the atomic bombings on August 9th, 1945. Considering that H.T. spent the autumn and winter of 1945 in Hiroshima, it would be assumed that the next release will be titled Autumn in Hiroshima. The fifth release/season will be meant to signify a "never-ending season", being that of the lasting effect of World War II on H.T. and the other veterans of Japan.
Summer in Nagasaki proves to be an extremely resounding release that impressively resonates the emotions captured as they were relayed by Mr. H.T. Froese's ability to capture such ardent emotions through strict instrumentation should came as no surprise to the large fan base of Tangerine Dream. After all, he has been doing it successfully for over 40 years. It is best represented as the building point to an event in history that will be forever remembered as one of the most lasting impacts of human warfare. Regardless of your own personal disposition of the necessity of the attacks, Summer in Nagasaki remains to be unbiased in the perspective of a human being, rather than a driving political force. Songs like the lush "In the Cherry Blossom Hills" signify the calm persona of Japan prior to the bombings, only to be disrupted by overpowering technological advancement and economical pressure. The devastating closer, "11:02 AM", represents the exact moment the "Fat Man" atomic bomb was dropped on Nagasaki, instantly killing the thousands who were in its destructive path. The song acts as a device for the bomb, with fastidious percussion and arpeggios serving as the prelude and anticipation to the eventual dropping. When the bomb touches ground shortly prior to the seven-minute mark, the percussion reverts to a lifeless form as a cloud of synthesizers begin to slowly fade along with human life. The composition proves to be a brilliant metaphor for the bombing and the irresponsibility of warfare in general.
Fans of Tangerine Dream are already acclaiming Summer in Nagasaki as one of Froese's best compositions. I have to wholeheartedly agree, as he has captured emotions so sensitive that even the greatest artists would shudder at the thought of creating its specific artistic rendition. Like fine wine, Froese seems to get better with age. Instead of wrinkles and artistic blunders, it seems that experience has fortunately prevailed in the case of Edgar Froese.
——————————————————————————————-
[audio:https://obscuresound.com/mp3/tandream-110.mp3]
——————————————————————————————-
Tangerine Dream – In the Cherry Blossom Hills

[audio:https://obscuresound.com/mp3/tandream-int.mp3]
——————————————————————————————-
Tangerine Dream – Ayumi's Butterflies

[audio:https://obscuresound.com/mp3/tandream-ayu.mp3]
——————————————————————————————-
Tangerine Dream – Official Web Site
Edgar Froese – Official Web Site
Mike Mineo
I'm the founder/editor of Obscure Sound, which was formed in 2006. Previously, I wrote for PopMatters and Stylus Magazine. Send your music to
[email protected]
.