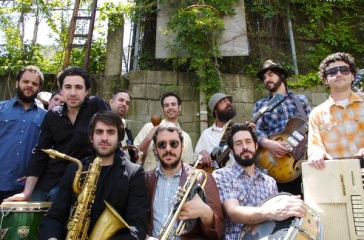 Anyone who claims that the genres of funk and jazz are slowly fading is horribly mistaken. The genres that are considered to be "hot" in present day culture are generated by commercialized media with the target audience of teens and young adults. This form of media is currently dependent on style over substance, choosing to show scantily clad girls or the most expensive cars available in favor of actual instrumentation. Take a look at the guys above. Would they fit in a video with Usher and his revolving pack of plastic women? Of course not. Not to be superficial, but they look like pure musicians; the sort that dedicates their life to the art through hard work, motivation, and willpower. Sure, they may not possess the six packs, the seven yachts, and the eight girlfriends that our favorite stars do. Hardly anyone does. The impressive thing about these musicians is that they do not care. Their passion goes beyond the material desires in life. Indeed, The Budos Band is all about the music.
Incorporating elements of funk, jazz, and "Afro-Soul", this large collective based out of Staten Island, New York has a clear perception on the values of instrumental music. Remember those "band geeks" in high school that were always seen lugging at least one instrument around? You know, the type you always knew had a professional talent to lean back on if the corporate world was not their cup of tea. Well, this would describe most of the members of The Budos Band. The central fixtures of the band met in an after-school jazz ensemble program at their local community center, finding a common interest in the lively creation of jazz and funk. After being exposed to a variety of local bands that focused on elements of Afro-Soul, the group knew they had found their niche. For those who were unaware, Afro-Soul is the weaving of Western soul music into African grooves and stylistic trends, resulting in an energetic sound that is gaining rapid popularity throughout indie bands in Africa and beyond. Originally calling themselves Los Barbudos ("the bearded ones"), the tentative group settled on the name The Budos Band after one member caved in and shaved his beard.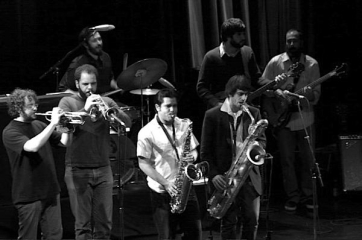 One notorious aspect of The Budos Band is their implementation of other genres within the midst of Afro-Soul. Their additional grasp of funk and jazz is very evident, aided by the handful of horn players that relocated from Brooklyn to play with the group. After they cemented a consistent lineup, the collective signed with the most suitable label imaginable in Brooklyn's Daptone Records, an independent label that is fixated on funk and soul. They released their self-titled debut album, The Budos Band, in 2005 to a warm critical reception, also receiving notability for their tight live performances in an array of small clubs, prominent venues, and large festivals. It remains highly impressive that they recorded their debut in three days, almost immediately after signing with Daptone. Pressure and expectations certainly do not seem to phase The Budos Band, as they fulfill all of them. Though they currently stand at eleven members, there is no telling who or what will be added next.
Their second album, The Budos Band II, will be released on July 31st through Daptone. It is an eloquent step up from a respectable debut album, showing even more stylistic progressions as the band has noticeably settled into their niche and stylistic approach quite nicely. It also most likely helped that they had two years, and not three days, to record this one. My favorite track on the album is "Budos Rising", an exotically feverish journey that puts the listener in an enduring daze through a durably consistent rhythm section, enticing keys, and an impressive brass section that never ceases to amaze. The group wholeheartedly claims that Fela Kuti is one of their largest influences and it certainly shows in the fantastic "Budos Rising". Other highlights include the funk-driven "Adeniji" in its sumptuous display of wind and brass instruments and the suave closer "Deep in the Sand", capitalizing on the instrumental aspects that establishes The Budos Band as a group that sets no boundaries and lets their passion for music take control. While their majestic display of classic Afro influences remains a significantly reputable aspect, it is their mixture in the forms of jazz, funk, and soul that makes The Budos Band something special. For fans of sheer instrumental power, The Budos Band II is certainly worth picking up when it is released later this month.
——————————————————————————————-
——————————————————————————————-
——————————————————————————————-
The Budos Band – Deep in the Sand

[audio:https://obscuresound.com/mp3/budos-dee.mp3]
——————————————————————————————-