Posted
September 13, 2007 by Mike Mineo
in Features
Learning Our ACB's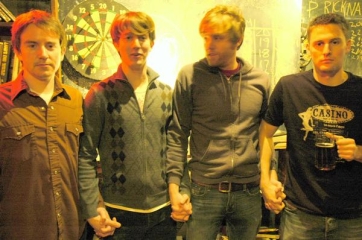 There is little doubt in my mind that The ACB's have been mistakenly introduced as "The ABC's" on more than one occasion. After all, one can only expect so much from human nature. Being taught the fundamental Latin alphabet since kindergarten can make such a thing seem customary, especially in regard to the first three letters. Regardless, while their oddly configured name may provoke caution for being unconventional, The ACB's' music will likely sound enjoyably familiar to anyone who was even a slight fan of alternative rock during the early to mid '90s. I mean this in an entirely complementary sense too; The ACB's craft a sound that reaps from familiarity in the midst of a strong melodic flow and irresistibly manufactured pop hooks. Encouraged by a slew of glowing local reviews and thriving shows, the four-piece are setting their sights on branching out from their local music scene in Kansas City, Missouri. There is honestly a slight chance that they already have more fans than the Royals; a sad sight indeed. Though baseball fans in KC continue to suffer, the music scene continues to bustle with a variety of artists who are quickly distinguishing themselves in quality form. The ACB's are currently one of the top indie acts from the "City of Fountains", fusing together a memorable sound that remains largely focused on arena-sized hooks and crisp guitar-rock.
While there are a substantial number of comparisons that could suit The ACB's harmonious style, one largely noticeable factor attributes itself to the geek-rock explosion that took place in the mid '90s, largely consisting of Weezer and Fountains of Wayne. With both respected bands attributing factors of wildly catchy power-pop, subdued grunge, and late '80s new-wave, I would not be surprised if such styles were the personal preferences for the four members in The ACBs when they were in their high school years. They remain a more contemporary version of their past influences, also incorporating elements of snappy art-rock and even slight tinges of funk into their qualifiedly expansive sound. Lead vocalist and guitarist Konnor Ervin has impressive range, swiftly transitioning between octaves as he establishes points of quivering emotion in songs like the infectious "Suzanne" and "Sometime". The latter of the two sees Ervin starting out a startlingly high in pitch; it is consistent throughout the song and the eventual chorus, the high point of the song in which several layers of singularly parallel backing vocals collide with a new set of swirling guitars. While The ACB's stylistic output could have easily generated from the emo-punk infestation that Kansas City is known for these days, Ervin and guitarist Matt Saladino, bassist Bryan "Sweetums" McGuire, and drummer Corey Egan have molded a sound that, while borrowing from their share of influences, is a largely refreshing beckon to the days of the '90s where catchy power-pop was released in rapid streams. While Kansas City has generally been previously known for its promising output of punk and hip-hop artists, the indie-rock scene is finally starting to catch up with bands like The ACB's.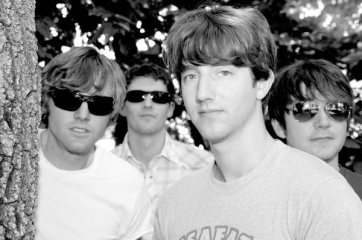 With a fair share of common influences in one hand (The Beatles, Matthew Sweet, and Michael Jackson) and a knack for irresistible guitar-driven hooks in the other, The ACB's finished up their self-titled debut album earlier this year to a warmly receptive applause. From The Kansas City Star upward toward Village Voice, the press has been nothing but positive. Though sales have yet to erupt, it seems that nearly every major music publication based in Missouri has written some praising write-up about the band. I simply decided to be yet another one. With their expectable display of bouncy power-pop and prominent guitar riffs in tow, The ACB's also have now revealed their fondness for the fashionable style of '80s new-wave, with studded bands like The Cars and Devo breathing life through The ACB's in most attempted ways possible. For instance, "Windows Up" takes a page from The Cars' amiable formula quite successfully. As both guitarists utilize a muting effect that allows for concisely fulfilling chords during each verse, Ervin muses about a one-night-stand with misinterpreted intentions. "You'll smoke alone, it's a long ride stoned," he sings, "Windows up, it's 10 A.M., I'm late to work again." The lyrical content on The ACB's is largely similar; Ervin spews out quickly formulated lines that interpretively summarize hyperbolic anecdotes regarding recreational drugs, beautiful women, and hefty social risks. Youth is fun, no? Apart from the smooth chorus, "Windows Up" is largely minimal in terms of instrumentation, shifting between a steady rhythm section and incessant guitar progression until a variety of additional guitar riffs shine through in the second chorus. Though The ACB's lack the synth use and slick percussion to be called full-on '80s revivalists, it actually helps them in the long run. Their blend of late '80s new-wave and early '90s alternative sounds perfect hand-in-hand, making comparisons to bands of the past only halfhearted in nature.
Throughout The ACB's, there is a tendency to notice the stylistic difference between each verse and chorus. Like most power-pop band reveling in the '80s or '90s, The ACB's' emphasis on efficacious hooks strikes an ideology that is repeated nearly obsessively throughout the album. The verse during "Windows Up" sees Ervin delivering a delivery similar to Ric Ocasek through a flury of quick-witted vocal snap over the quick swipes of a lowly tuned electric guitar. However, when the main hook arrives during the chorus, I am reminded more of Teenage Fanclub's glory days back in the early '90s with a more expansive chorus that sees top form in the breezy vocal melodies of Konnor Ervin. My pick on the album is actually quite a simplistic one on The ACB's in the insanely catchy "Suzanne". The structure is standardized with a steady verse, explosive chorus, and a guitar solo rounding out the bridge to the final chorus. Once again, I cannot help but be impressed with Ervin's melodic capabilities, transforming a generally bare verse into a fledging chorus where several layers of vocals now provide for a significant listening experience. While The ACB's are not looking to the future with their definitive style, they are certainly not stuck in the past either. Their fusion of contemporary and classic elements proves to be the sticking point that makes them ultimately worthwhile, with songs like "Suzanne" on The ACB's that results in a splendid power-pop experience.
——————————————————————————————-
[audio:https://obscuresound.com/mp3/acbs-suz.mp3]
——————————————————————————————-
[audio:https://obscuresound.com/mp3/acbs-win.mp3]
——————————————————————————————-
[audio:https://obscuresound.com/mp3/acbs-som.mp3]
——————————————————————————————-
Mike Mineo
I'm the founder/editor of Obscure Sound, which was formed in 2006. Previously, I wrote for PopMatters and Stylus Magazine. Send your music to
[email protected]
.