Posted
September 1, 2007 by Mike Mineo
in Features
Obscure Sound: Best of August 2007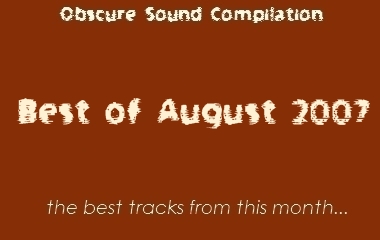 August was certainly one of the most consistent months I've covered lately. Numerous bands featured with quality music… enjoy.
01. The Afternoons – Let's Fall Apart (post)
02. The Virgins – Rich Girls (post)
03. Richard Hawley – Lady's Bridge (post)
04. David Ford – Nobody Tells Me What to Do (post)
05. Eskimo Joe – Sarah (post)
06. Georgie James – Cake Parade (post)
07. The Twang – Two Lovers (Mint Royale Remix) (post)
08. Pelle Carlberg – I Love You, You Imbecile (post)
09. Joe Henry – You Can't Fail Me Now (post)
10. The Legends – Play It For Today (post)
11. The Opposite Sex – Violent Heartstrings (post)
12. Baby Panda – What've You Been Up To? (post)
13. The Details – Underground (post)
14. The May Fire – Marcha (post)
15. Black Before Red – Matagorda (post)
Mike Mineo
I'm the founder/editor of Obscure Sound, which was formed in 2006. Previously, I wrote for PopMatters and Stylus Magazine. Send your music to
[email protected]
.