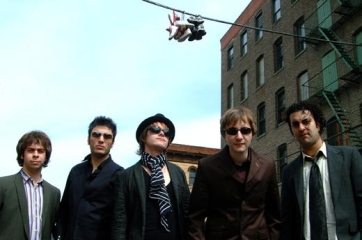 If the vast range of artists featured throughout this past decade served as any example, the critics who shunned the Brit-pop explosion of the '90s as nothing more than a stylistic fad continue to be proven wrong with each emerging influenced act. While the glory days of forefathers like Blur and Oasis appear to be fading (though both bands are reportedly working on new material), there are plenty of fresh bands embracing the immediately satisfying style and picking up where the classics left off. Enjoyably enough, this does not apply exclusively to British bands; American bands also continue to churn out quality material that guitar-pop movement that stemmed during the UK's musical prominence in the early to mid '90s. While some bands show their influence in a subtle or specific manner, The GoStation embodies all the characteristics of a Brit-pop band who would have climbed the charts with ease during its '90s heyday. The most surprising thing? This sumptuous five-piece does not hail from London, Manchester, or Oxford. Instead, they are based out of the heart of New York City. While calling The GoStation clones of Oasis would be insulting and ignorant, they do certainly expand on the guitar-based style that Oasis perfected and found millions of fans in the process.
Incorporating elements of classic Brit-pop with a contemporary mold of productive sophistication, The GoStation are beginning to make a name for themselves in New York and beyond. Perhaps their web site says it best: "The band are far more concerned with reviving the classic art of songwriting than becoming the darlings of any fickle scene." They do not present a sound that sounds foreign to the average listener. Rather, their approach is a familiar blend that benefits from freshly churned exposure and youthful confidence. After the release of their debut EP, Quiet Zone, in 2005, they began to garner attention throughout the nation by touring with the likes of The Dears, White Rabbits, Etlefant and The Mooney Suzuki. They also caught the eye of producer Bill Racine, who previously produced excellent albums by The Flaming Lips, Rogue Wave, and Phantom Planet. He went on to add The GoStation to his fruitful list of clients, producing their debut album, Passion Before Function. Set to be released on September 25th, it features 10 tracks boasting shades of lively Brit-pop with booming guitars, dramatic strings, and chirping horns, The GoStation's debut is more expressive of a band who has lingered around for several decades. It is quite surprising that this is The Gostation's first effort, as their stylistic congruity and polished songwriting are usually examples of a band reaping from earned experience. In this case, the band is just getting started.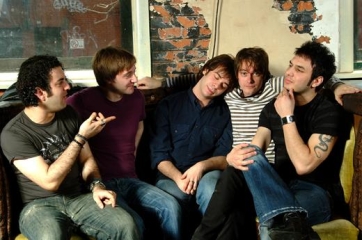 In fear of coming off as senseless manipulators, some bands prefer to keep their influences under wraps. The GoStation are not one of them, being hardly reluctant to point out Oasis as practically their largest influence on their MySpace. They are perfectly aware of the audible similarities and it appears that they take it in stride. Among other listed British staples of the '80s and '90s like The Stone Roses, The Verve, and The Cure, The GoStation makes their arena-sized expectations aware from the moment that Passion Before Function begins. The opening "All Together Now" justifiably serves as the band's first single, launching into a series of boisterous guitars and explosive rhythmic progressions as lead vocalists Doug Levy and Matt Friedlander expel a fervent pair of vocals that one could easily mistaken for a less snarly version of the Gallagher brothers. The chorus, in which the song's name is repeated emphatically over such guitar-based hooks, provides for a comparison that is nothing less than eerie. Other more complexly layered tracks like "Down Street" and especially "The Way of the World" find similar comparisons, undoubtedly in ambitious choruses that benefit definitively from Bill Racine's expert production. Within traditional song structures and simplistically memorable lyrics, it is not difficult to get hooked into a song like "The Way of the World". If it were released a decade or so ago, it would have "hit" written all over it.
Despite the enjoyable but occasionally outdated aspects of their guitar-centric songs, The GoStation are certainly masters of the chilling ballad. Though radio airplay will likely give the five-piece some recognition as a band with heavy percussion and ceaseless guitars, I am personally engaged most in the more subdued tracks scattered throughout Passion Before Function. Though "Not Enough" and "C'mon" grasp respectable amounts of emotion in an accomplished effort to produce a propitiously diverse sound, the change in tempo finds the most suitable environment in the touching "Battle Lines". Soaked with strings, soft acoustic guitars, and a somber bass line, it presents a sound that remains largely individual to The GoStation. "Battle lines drawn in the sand, I await further command," Levy sings in the conclusion over an elaborate movement of backing violins, "If you take me far from this place we can leave war behind." It is perhaps the only song on the album that will not push forward any comparisons to British bands of past, constructing a sound all of their own through a plethora of dramatically interlaced instruments. Though you will likely hear some sleepless critics bashing The GoStation for wearing a boatload of familiar influences on their sleeves, I personally remain impressed that a rookie band allows itself to simultaneously sound fresh and nostalgically involved. With such an abundance of commodious hooks and instrumental diversity, Passion Before Function remains an imposing effort from a band that has much to offer.
——————————————————————————————-
The GoStation – The Way of the World

[audio:https://obscuresound.com/mp3/gostation-way.mp3]
——————————————————————————————-
——————————————————————————————-
The GoStation – All Together Now

[audio:https://obscuresound.com/mp3/gostation-all.mp3]
——————————————————————————————-
VIDEO: All Together Now (33.7 MB)