Posted
September 17, 2007 by Mike Mineo
in Features
Soul Music's Genius Sculptor: Thom Bell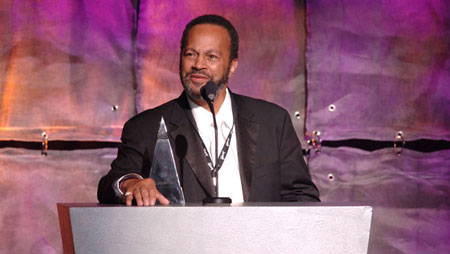 Usually above this text, there is a picture of an artist or band posing ceremoniously for a photographer with the intent of public distribution. You will be hard-pressed to find any photos like this of Thom Bell. A photo of him accepting a prestigious award is more than symbolic of his career. Much like the career of this masterful producer, arranger, and songwriter, the preference for substance over style resounds in his own unforgettable musical legacy. Though he was never found on stage crooning fervent soul classics like Marvin Gaye or Otis Redding, Bell's work behind the scenes made him arguably the most important figure of soul music throughout the 1970s. Born in Jamaica but raised in Philadelphia, Bell found his love for music very early in life while studying classical piano at the age of 5. Working diligently throughout his childhood, Bell's recognition rose fast and he was conducting and arranging songs for local groups by his late teens. When Bell caught his first break and a major label (Cameo Records) came calling in 1967, he was only 24 years old. While Marvin Gaye, James Brown, and Sam Cooke among many others had popularized their own form of soul music before Bell's national inception, Bell introduced a style to the world that would later be dubbed "Philly Soul". Seeking solace in sweeping strings, endearing horns, and other grandiose orchestral arrangements, this smooth stylistic innovation brought enormous success to Bell's name throughout the 3 major groups he worked with: The Delfonics, The Stylistics, and The Spinners.
When Cameo Records approached Bell with the intentions to produce the then-aspiring The Delfonics, he was a mere session pianist for the label. However, upon seeing his impeccable grasp regarding production and arranging, the label knew that Bell was the right man for the job. Almost immediately, Bell and The Delfonics' manager, Stan Watson, formed the Philly Groove label in association with Bell Records (no relation to Thom Bell). Under the label, Bell produced The Delfonics' classic debut album, La La Means I Love You, in 1968 and introduced his form of Philly Soul to a wide range of audiences. Under Bell, The Delfonics later went on to become one of the most memorable soul acts of the decade. Though they never quite echoed the sales of The Stylistics, The Spinners, or The O'Jays, their cult following continues to grow and brilliant gems like "I'm Sorry" and "Didn't I (Blow Your Mind This Time)" are absolutely irresistible, the latter receiving a bit of revived exposure in 1997 when Quentin Tarantino used it as a focal song in his entertaining film, Jackie Brown. Bell produced and wrote three albums for The Delfonics from 1968 to 1970, all of them being fantastic. I recommend all three wholeheartedly, or at least their greatest hits. Like all three of the soul acts Bell primarily worked with during his career, they declined after Bell left. Despite The Delfonics' brief time in the spotlight, their success gave Bell the vehicle to expose his irresistible style of suave soul to the world. This led to bigger and brighter things, establishing Bell in the early '70s as one of the most sought-after songwriters and producers in the music industry.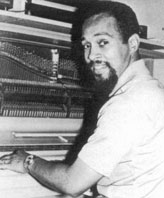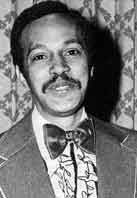 After the The Delfonics' finesse started to faded, Bell moved onto another freshly aspiring soul group. Like The Delfonics, Bell discovered The Stylistics out of local hype and after being personally impressed with lead vocalist Russell Thompkins, Jr.'s spine-tingling falsetto and the backing band's melodic capabilities. When Bell and fellow songwriter Linda Creed produced and released The Stylistics' self-titled debut in 1971, it garnered immediate attention. When the debuting single, "You're a Big Girl Now", dabbled in the charts at #73, it proved as only a tease. The prom floor classic, "You Are Everything", was one of the many great moments on the debut. From Thompkins Jr.'s rich falsetto to the brilliant electric sitar over Creed's simplistically powerful lyrics, it is a flawless soul classic. Though you have likely heard it before (either at a prom, in a movie, or as a cover), this is the type of song that simply never gets old. Though it reached #9 and went gold, The Stylistics' most popular song still had yet to come. Naturally, the exceptional "You Make Me Feel Brand New" was also written by Bell. Reaching #2 both in the US and UK, it was one of the best songs of 1974 with its sheer beauty and delicate arrangements. It also proved as a farewell for Bell, as he left The Stylistics that same year. Similar but even more dramatically impacting than his work with The Delfonics, Bell had made The Stylistics into stars with their first three albums. Though they had marginal success after Bell's departure with commendable songs like "Na Na Is the Saddest Word", their success and originality was undoubtedly never the same.
When Bell left The Stylistics, he appeared to be looking for a challenge when he decided to produce The Spinners for Atlantic Records. Unlike Bell's first two projects, The Spinners were hardly a rookie band. They had been around since 1957 while Bell was still a teenager, going by virtually unnoticed for 15 years before Bell decided to lend a hand. The Spinners always had the proper tools in place, they just never knew how to execute their style properly. Bell provided his magic touch and, predictably enough, The Spinners became one of the most successful soul bands of the '70s. In fact, many respected critics consider The Spinners to be the greatest soul group of the early '70s; the exact period in which Bell took the wheel. Considering the abundance of blossoming soul artists during that time period, it is a remarkable lasting impression to leave behind. The Spinners would eventually chart dozens of Top 100 singles, with five coming off of Bell's first production with the band in 1972's The Spinners. The Spinners' finest album, it featured era-defining classics like "I'll Be Around" and "Ghetto Child". When Bell left The Spinners in the late '70s, he was responsible for molding three wildly influential bands in a timespan of just over 10 years. Though Bell also produced artists like The BeeGees, Johnny Mathis, and even Elton John for a short while, he will always be remembered for his unforgettable impact on the genre of soul music.
Thom Bell is one of those rare songwriters that comes across once every 20 or 30 years. He defines a genre, perfects it, and leaves memorable examples to influence later artists in all enduring forms. Though he is still alive and well at the age of 64, he continues to live a life away from the spotlight. I can hardly blame him. After all, this legend has nothing more to prove.
——————————————————————————————-
The Delfonics – Didn't I (Blow Your Mind This Time)
[audio:https://obscuresound.com/mp3/delfonics-blo.mp3]
[audio:https://obscuresound.com/mp3/delfonics-ims.mp3]
The Delfonics – Break Your Promise
[audio:https://obscuresound.com/mp3/delfonics-bre.mp3]
VIDEO: La La Means I Love You (live)
——————————————————————————————-
The Stylistics – You Make Me Feel Brand New
[audio:https://obscuresound.com/mp3/stylistics-youm.mp3]
The Stylistics – You Are Everything
[audio:https://obscuresound.com/mp3/stylistics-youa.mp3]
The Stylistics – Betcha By Golly, Wow
[audio:https://obscuresound.com/mp3/stylistics-bet.mp3]
Check out a recent video of Thompkins Jr. singing "Betcha By Golly, Wow". He still sounds great.
VIDEO: Rockin' Roll Baby (yes, Bell can write blues too)
——————————————————————————————-
[audio:https://obscuresound.com/mp3/spinners-ill.mp3]
[audio:https://obscuresound.com/mp3/spinners-ghe.mp3]
The Spinners – I'm Coming Home

[audio:https://obscuresound.com/mp3/spinners-imc.mp3]
VIDEO: Wake Up Susan
——————————————————————————————-
BUY: The Delfonics, The Stylistics, The Spinners
If you wish to jump right into it and purchase the best-of compilations, I fully recommend La La Means I Love You: The Definitive Collection (The Delfonics), Ultimate Collection (The Stylistics), and A One of a Kind Love Affair: The Anthology (The Spinners).
Mike Mineo
I'm the founder/editor of Obscure Sound, which was formed in 2006. Previously, I wrote for PopMatters and Stylus Magazine. Send your music to
[email protected]
.