Posted
September 27, 2007 by Mike Mineo
in
The Friend From Finland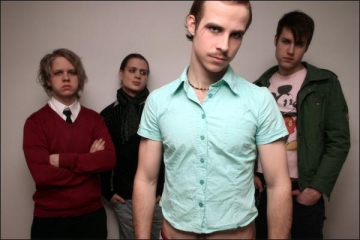 Though I have been fortunate enough to gain exposure to a variety of geographically diverse music, I admit that Finland is one of the countries where my knowledge of the music scene is minimal at best. Not to sound insulting, but the stylistic stereotype involved in Finland's thriving "death metal" scene has always turned me off a bit. While I prefer never to disregard a specific genre as a talentless craft, any form of metal was never my cup of tea and, every time I attempted to listen to it, I found my insight to be too biased to form a useful opinion. However, last year, when I stumbled upon a Finnish band by the name of Magenta Skycode, all of my baseless assumptions were proven wrong. In fact, their full-length debut, IIIII, went on to become my favorite debut (and 11th favorite overall album) of the year. Until I listened to the fantastic Magenta Skycode, I held the foolish assumption that Finland's indie-rock scene could be easily overlooked. They proved me wrong in more ways than one with a sound rich in both familiar influences and exotic relapses, portraying a sound glimmering with hooks and illustrious moments. The other day, with pure delight, I was pleased to find yet another rookie band from Finland with the potential to capture a similarly esteeming title…
Though their name denotes a singular purpose, The Friend is comprised of four savvy individuals from Turku, Finland; they seem intent on calling it "Friendland". Coincidentally enough, Magenta Skycode are also from Turku, the oldest and most historic city in Finland. After spreading their name throughout Finland, The Friend are looking to become one of the first Finnish indie-rock acts to make it big overseas. With their debut EP, Sports, recently in tow, it makes such a large feat seem easier to accomplish. While the name recalls the classic Huey Lewis & the News album from 1983, the contained sound in their three-song EP serves as more of a contemporary fit. With a guitar-based method focused largely on timely hooks and insatiable melodies, singer/guitarist Anders Vuorimaa, lead guitarist Mikko M. Koskinen, bassist Jaakko Kaján, and drummer Antti Siniranta are well on their way. Released earlier this June, Sports should optimistically mark the first in a promising succession of quality releases from a band who describes themselves as "brisk, atmospheric, and playful". In lovably mixed English, their press kit relays a simple suggestion: "The attitude of the band is fortified with guitarist Mikko's ejactulation: "This band is doing great"" Such full-fledged optimism should do Mikko and co. proud.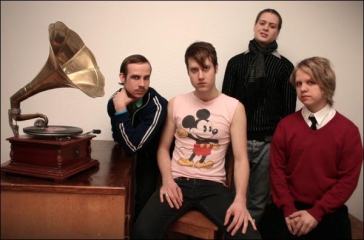 Though The Friend are hardly innovators of their respected style, their songwriting certainly remains strong enough to provide more than a respectable amount of recognition. Upon my first listen of their leading single, "Streets Call", I was immediately reminded of the popular English four-piece, Editors. With guitars that ring out in a similarly prominent manner, the main aspect of an uplifting chorus remains the whimsical "ejaculation" of Vuorimaa's vocals over a guitar progression that sounds familiarly infectious. "Hold me tight before the fucking streets call," he sings in a high-pitched tone that denotes a sense of urgency, steadily transforming the song into a youthful anthem of sorts. Like the catchy "Streets Call", Vuorimaa sings the other two tracks on Sports entirely in English. Honestly, if I had no insight on their biographical purpose, I would have easily guessed that The Friend were yet another act in the British art-rock wave. Throughout all three songs, Vuorimaa's powerful delivery and Koskinen's flashy guitar skills are the main benefactors in such a similarity; it is an enjoyable likeness that groups The Friend among modern elite art-rock groups. Now all they need is some deserved recognition.
Further touching on Vuorimaa's vocals, the enjoyable "Serious" sees him reach a falsetto in a magnificent chorus that exceeds even the amiable likes of "Streets Call". The Friend admittedly uses the song as an expressive metaphor for their stylistic approach, being the philosophy that those who take life too seriously will falter. "Stopped taking my life too serious," Vuorimaa sings in one of the only comprehensible lines throughout the song, "Stop taking life so serious." He makes further use of this admirable falsetto once again during the equally satisfying "Blood In Your Eye". While such an approach may initially sound like a repetitive overuse, the melodic shift between songs works remarkably well and creates an effect that is anything but tiring. With all three tracks on Sports being equivalently fulfilling, you can check out two more unreleased tracks on their web site. While Magenta Skycode displayed the more atmospherically stimulating aspect of Finnish indie-rock, The Friend brings western listeners to a more familiar musical realm that capitalizes on downright infectiousness and guitar-led hooks. Perhaps The Friend's own entertaining write-up does it enough justice in saying their music is simply "oh! so wonderfully tingling!"
——————————————————————————————-
[audio:https://obscuresound.com/mp3/friend-str.mp3]
——————————————————————————————-
[audio:https://obscuresound.com/mp3/friend-ser.mp3]
——————————————————————————————-
The Friend – Blood In Your Eye
[audio:https://obscuresound.com/mp3/friend-blo.mp3]
——————————————————————————————-
Mike Mineo
I'm the founder/editor of Obscure Sound, which was formed in 2006. Previously, I wrote for PopMatters and Stylus Magazine. Send your music to
[email protected]
.