Posted
October 8, 2007 by Mike Mineo
in Features
Obscure Sound: Best of September 2007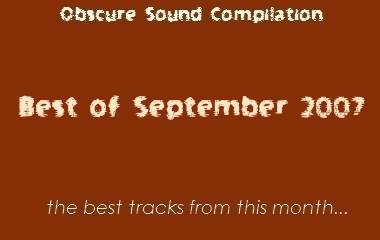 Wow. September flew by so quickly that I nearly forgot to post the monthly best-of compilation. I could easily blame it on the sudden onslaught of classes, but it could also be accredited to the rush of new music we have been treated with over the past few weeks. New content over reflection any day. Though I am posting it about a week late, this is a good one… the best of September.
01. Kalle J – Vingslag (ft. Johan Tuvesson) (post)
02. The Go! Team – Grip Like a Vice (post)
03. Martina Topley-Bird – Shangri La (post)
04. Federico Aubele – Corazón (post)
05. The Friend – Serious (post)
06. Mr. Oizo – Patrick 122 (post)
07. Deer Tick – These Old Shoes (post)
08. Bettye LaVette – Jealousy (post)
09. Nathan Lawr and the Minotaurs – The Glass Footsteps (post)
10. Susumu Yokota – A Heart-warming and Beautiful Flower… (post)
11. Hoax Funeral – Things You Can't Believe (post)
12. Tiny Masters of Today – Hologram World (feat. Karen O & Nick Zinner) (post)
13. Murder Mystery – Who Doesn't Wanna Give Me Love?(post)
14. The GoStation – The Way of the World (post)
15. Jon Hardy and The Public – Cassius Claypost)

Mike Mineo
I'm the founder/editor of Obscure Sound, which was formed in 2006. Previously, I wrote for PopMatters and Stylus Magazine. Send your music to
[email protected]
.