Posted
November 2, 2007 by Mike Mineo
in
Obscure Sound: Best of October 2007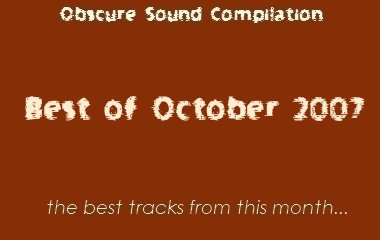 October welcomed us to the great season of fall. The music brought to us this month was not half-bad either. In fact, this monthly compilation should come off as quite appealing. There is not a lackluster song to be found. I know I find myself repeating this but this is one of the best ones yet. At least in my opinion, it seems that each compilation gets better every month.
01. Magnet – The Gospel Song (post)
02. Georgie James – Cake Parade (post)
03. Pale Young Gentleman – Saturday Night (post)
04. Spiral Beach – Man Moon (post)
05. Sunset Rubdown – The Taming of the Hands That Came Back To Life (post)
06. Tokyo Jihen – Kingyo no Hako (金魚の箱) (post)
07. Leigh Marble – Fast & Loose (post)
08. Charmparticles – A Danger to Your Health (post)
09. Say Hi – Northwestern Girls (post)
10. The Defog – Challenger Deep (post)
11. Play – Rainbow Schemes (post)
12. Babyshambles – Delivery (post)
13. Pluramon – Border (post)
14. Elle Milano – Good People Go to Heaven (post)
15. Right Away, Great Captain! – Night Marry You (post)

DOWNLOAD ENTIRE COMPILATION>>>
(64.8 MB, .RAR file)
Mike Mineo
I'm the founder/editor of Obscure Sound, which was formed in 2006. Previously, I wrote for PopMatters and Stylus Magazine. Send your music to
[email protected]
.