Posted
February 14, 2008 by Mike Mineo
in Features
A Mix for the Lonely: Valentine's Day '08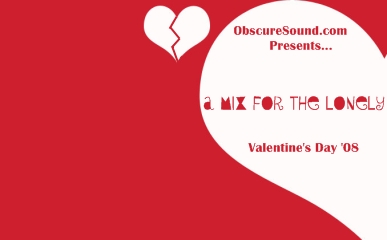 Considering that the dates of anniversaries and birthdays vary from person to person, it would not be entirely unrealistic to deem Valentine's Day as the most universally abundant day for the exchanging of mix tapes. After all, the process of compiling a mix of emotionally suitable tunes for a loved one has nearly caught up to the ranks of flowers and chocolates as being a staple of Valentine's Day. With this in mind, since there remains a large amount of people today stuck in a state of seemingly perpetual loneliness, I figured it would be more productive to compile a mix tape for those who are not expected to actually receive one. Sad or not, I hope you enjoy it. For the gloomy ones though, it is often appropriate to soothe emotional distress with songs that are easy to relate to, causing topics like unrequited love and tragic rejection to appear frequently throughout this 15-track compilation. From the mid-'60s (The Left Banke, The Delfonics) to 2006 (Grizzly Bear), this collection has no emphasis on a particular style or period of time; the focus is on the mood and lyrical content, with unrequited desires being a prevalent theme. Even though this mix can be enjoyed alone in thematically appropriate form, I recommend to go ahead and find someone of your own liking whose current emotional outlook is similar to yours. It's simply more fun than sulking alone.
01. Magnetic Fields – My Sentimental Melody (3:09)
02. Archer Prewitt – Go Away (4:54)
03. Grizzly Bear – Knife (5:14)
04. Cousteau – Peculiarly You (5:41)
05. Hall & Oates – Sara Smile (3:10)
06. The Czars – Val (5:11)
07. XTC – Your Dictionary (3:13)
08. Asahi – How Much He Lies (3:13)
09. The Delfonics – Break Your Promise (3:02)
10. The Smiths – I Want the One I Can't Have (3:14)
11. Ryuichi Sakamoto – Rose (5:11)
12. Matthew Sweet – Hide (4:01)
13. The Left Banke – Walk Away Renee (2:43)
14. Antony & The Johnsons – Fistful of Love (ft. Lou Reed) (5:51)
15. David Sylvian – Forbidden Colours (5:59)
Mike Mineo
I'm the founder/editor of Obscure Sound, which was formed in 2006. Previously, I wrote for PopMatters and Stylus Magazine. Send your music to
[email protected]
.