Posted
February 29, 2008 by Mike Mineo
in Features
Obscure Sound: Best of February 2008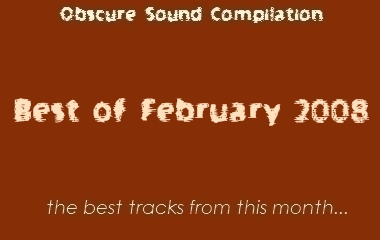 I always get excited when winter arrives, making it somewhat ironic that I get even more excited when the season is about to pass. After the snow loses its dramatic flair and becomes nothing more than a hassling obstacle for transportation, the occasional day where the temperature exceeds 40° is a rare gift. I guess I can speak for most vacating the east coast when I say this too; very few people are latching onto winter when the end of February rolls around. Even if the groundhog doesn't see its shadow, one animal certainly does not define the weather. That being said, I welcome March with open arms. Warmer weather starts to (hopefully) emerge, baseball season begins… it is just a great time of year. Spring break is nearing as well, with plans certainly starting to roll in. Still though, let us not disregard the great artists who got many of us through the chilly month that preceded us. This compilation does just that. And as for those living in warmer climates, my jealousy cannot be described in simple words.
01. Supergrass – When I Needed You (post)
02. Chapman & Brocker – The Hearth (post)
03. What Made Milwaukee Famous – Sultan (post)
04. Apes & Androids – We Don't Understand You (post)
05. Howlin Rain – El Rey (post)
06. Van Hunt – Turn My TV On (post)
07. Fredo Viola – The Sad Song (post)
08. Rachel Taylor Brown – Stagg Field (post)
09. Death to Anders – Camera Lens (post)
10. Malcolm Middleton – Week Off (post)
11. RickoLus – Backyard Baby (post)
12. Ann Vriend – (If We Are Not) Spies (post)
13. Kara Keith – Kick This City (post)
14. Bing Ji Ling – Kathalina (post)
15. Amelia – Tragedy (post)
Mike Mineo
I'm the founder/editor of Obscure Sound, which was formed in 2006. Previously, I wrote for PopMatters and Stylus Magazine. Send your music to
[email protected]
.