Posted
February 2, 2008 by Mike Mineo
in Features
Obscure Sound: Best of January 2008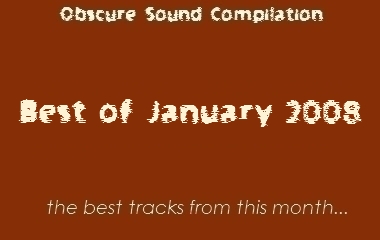 After a rewarding 2007, the new year has already embraced us with several artists who demonstrated great potential and ability on their recent releases. As for this past month, whether it has been through reputably innovative artists (Xiu, Destroyer) or brand new acts who have yet to even be signed (The Delfields, Run Dan Run), the optimism surrounding music in 2008 has been enjoyably exposed thus far.
01. School of Language – Disappointment '99 (post)
02. Dengue Fever – Woman in the Shoes (post)
03. Destroyer – Shooting Rockets (From the Desk of Night's Ape) (post)
04. Winter's Fall – Muddy & White (post)
05. The Helio Sequence – Can't Say No (post)
06. Xiu Xiu – No Friend Oh! (post)
07. Little Beirut – Belle de Jour (post)
08. Neon Neon – Raquel (post)
09. Goodtimes Goodtimes – Desire (post)
10. The Delfields – A Slippery Slope (post)
11. The Feminists – The Beginning of the World (post)
12. The Sugar Oaks – Los Rebeldes (post)
13. Run Dan Run – Your Name Escapes Me (post)
14. The Steeldrivers – Blue Side of the Mountain (post)
15. Nick Jaina – Maryanne (post)
Mike Mineo
I'm the founder/editor of Obscure Sound, which was formed in 2006. Previously, I wrote for PopMatters and Stylus Magazine. Send your music to
[email protected]
.