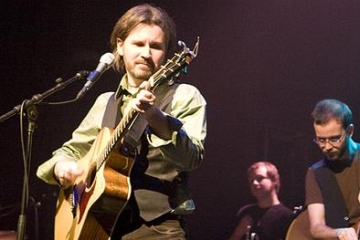 When the producers of "Jesus' Son" were looking to add some additional ardency to their 1999 film, they enlisted the help of songwriter Max Avery Lichtenstein. The film, set in the early '70s, featured a wide array of characters depicting prevailing, melancholic, and somber circumstances. The fixture on emotional variability proved to be a challenge for Lichtenstein, as he had to create an original soundtrack that complemented the diverse moods well. He succeeded though, viewing the experience as a n indication to expand upon his exhibited potential as a songwriter. Consequently, he pursued life as a solo artist by forming Camphor after his composition work for "Jesus' Son" was completed. Working with friend Jason Russo of Hopewell, the name was based on a variety of oddly descriptive things. "It seemed to evoke all the right things," Lichtenstein explains. "Flashes of old and precious treasures stored away in the dark corners of a forgotten steamer truck; dusty moth wings; chemical concoctions; a strong and penetrating sensory experience… it touched a nerve in my little heart and I've been writing under the name ever since." Back to reality, camphor is actually a substance that is used as a moth repellent, a form of embalming the dead, and for medicinal purposes, but Lichtenstein's project looks to become one of the more recognizable definitions of the multifarious word in the near future.
If Lichtenstein's name sounds somewhat familiar, you may recognize him as a producer and collaborator for artists that include Mercury Rev, Beirut, and the previously reviewed Silent League. Based out of North Salem, New York, Lichtenstein released his debut album, Drawn to Dust, on Friendly Fire Recordings in April to a variety of critical acclaim. Despite his foray into the world of indie music, Lichtenstein has remained busy with some film-related works; he composed the soundtracks for the movies "The King" and "Home Front", both independent films that have been released in the past 3 years. As for Lichtenstein's new album, the first single, "Castaway", has already garnered a good amount of attention. Apart from being a very fun track in itself, the music video is very striking and shows Lichtenstein's cinematic prowess in his ability to fuse audible and visual elements together seamlessly. Making an array of artificial characters as innovatively lifelike as possible, the video appropriately depicts the retelling of a "classic siren myth", with the most amusing aspect being the performances by a cast of PLAYMOBIL toys. The five-piece is currently preparing to embark on an European tour for the end of the year, featuring a run of dates that will coincide with the European release of the album.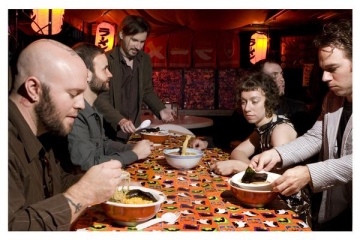 Lichtenstein supposedly wrote Drawn to Dust focused around a ideology called wabi sabi, a Japanese conceptual belief that true greatness exists in the inconspicuous details of our world and true beauty can only be discovered in life's imperfections. Featuring a rich display of instruments that include strings, mariachi horns, and woodwinds over constantly revolving arrangements, Drawn to Dust is certainly not an inconspicuously minimal affair, making the ideology correspond more to the melodic expansion presented on the more worthwhile efforts. This is best demonstrated on the stunning "The Sweetest Tooth", a track that shows Lichtenstein's talents as both an an aspiring pop artist and relatively accomplished film composer. The chorus sports a grand spectacle of vigorous strings and clashing bells intertwined with clamorous percussion, providing a thematic outlook based on the sheer instrumental grandiosity alone. The verses appear more in typical singer-songwriter format, with Lichtenstein providing his soothing vocals over a comforting swirl of keys and strings. His vocals fall somewhere between the abstruse stylings of Jim Morrison, Mark Eitzel, and Nick Cave, though the latter comes more naturally due to Camphor's similarly blended style. For a style that is so intricately processed and emotionally resounding, the deep and elastic tone of Lichstenstein's voice fits perfectly.
Like "The Sweetest Tooth", "Castaway" shows off Lichtenstein's cinematic chops in excellent form. The spaghetti western twang of the guitar with the infused backing of a marimba will create immediate comparisons to Ennio Morricone, though Lichtenstein's inarguable grasp of pop music also makes such comparisons useful only for spotting out influences. Thanks to his simultaneous usage of cinematic and pop elements, Lichtenstein's work proves to be original and consistently enthralling. As for songs that exhibit his chops as a pop songwriter entirely, the serene pace of the organ-led "Immolation" is an enjoyable effort in the middle of Drawn to Dust that proves quite reminiscent of American Music Club's somber successes. Also, despite featuring an orchestral accompaniment that is nearly as majestic as "The Sweetest Tooth", "Deconstructed" is a notable track that very well may be the album's second single if "The Sweetest Tooth" is somehow passed over. Featuring a plethora of correlated brass and strings, Lichtenstein's vocals shift impressively with each melodic transition as they build up toward a stylistically enlightening chorus. With the majority of Drawn to Dust exhibiting the same impressive formula, it is highly recommended for being one of the more polished and consistent debuts of the year so far.
——————————————————————————————
——————————————————————————————
——————————————————————————————
——————————————————————————————