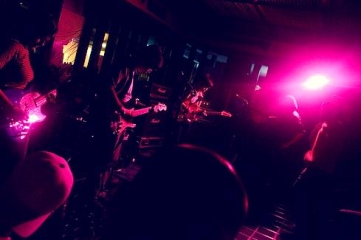 Post-punk and shoegaze are forever genres that will be remembered as prototypes of the 1980s. The emergence of both was triggered around a similar point in time, but the most striking aspect of comparability is the stark contrast both genres had when compared to the most commercially popular music styles of their time. Post-punk saw a peak during the early '80s and shoegaze began expanding in the late '80s. The gloomy bustle of post-punk contrasted interestingly with formulaic methods of dance and synth-pop that dominated the airwaves at the time, and the lush intricacies of shoegaze were ushered in nearly simultaneously with the aggressive hooks of grunge and college-rock. It would be somewhat humorous to label originative fans of post-punk and shoegaze as rebels of their time, but it is also easy to comprehend the amiability of both genres when most of the other competing styles were void of originality and ambition; quality forms of post-punk and shoegaze proved to be the opposite. Growing up, I imagine that the members in Moscow Olympics would have been grouped admirably with the "rebels" in their preference for the atypical, as they display both their reverence for stylistic ambition and preceding influences in a memorable sound that results in a proficient blend of post-punk and shoegaze. In fact, their music alone nearly seems like a resounding roar directed at anyone who deems post-punk and shoegaze as genres that are dead and irrelevant.
I have not featured many bands from the Philippines on this site, entirely due to the fact that I have not stumbled across any. I consequently hold little knowledge of their music scene but, from what I have seen and heard recently, it certainly looks promising. Moscow Olympics are one of the groups on the scene that appears poised for international success. Already generating substantial buzz in their homeland, the five-piece formed during the summer of 2006 and immediately drew comparisons to the likes of Northern Picture Library, Blueboy, and Slowdive for their fused implementation of shoegaze and post-punk. It is certainly not your standard fare of "dream-pop" though, as the expected aspect of repetition in shoegaze is substituted for serenely intricate structures that provide a high degree of unexpected twist and turns throughout each song. As far as the separation between the two genres, the group's vocal delivery is undoubtedly within the realm of shoegaze. What backs it up is a plethora of bustling instrumentation whose progressions highly resemble rhythmically inclinded post-punk, yet with a polished reverb-heavy form of production that brings the listener back to their shoegaze roots. In accustomed form, reverb, droning riffs, heavy distortion, and plenty of tremolo are expectedly present without managing to be overly predictable or stylistically desperate.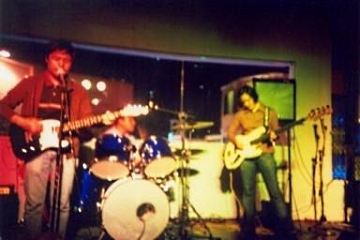 Moscow Olympics' debut album, Cut the World, is yet another striking entry into the diminishing world of contemporary shoegaze. Released as a mini-album, it features 7 tracks that fall just short of 28 minutes. It also follows up on their debut 7″ single, "Still". On the album, the band demonstrates a form of musicianship that suggests that the 5 members have been creating music for much longer than the two years Moscow Olympics have been active. Their blend of nostalgic production techniques with modernistic odes to the emerging frequencies of the early and late '80s proves constantly invigorating. It almost sounds as if the band members are split between being fans of post-punk and shoegaze, consequently resulting in something that sounds fresh, engaging, and surprisingly organized. As their music shows, they work extremely well together. The songwriting is the aspect that immediately halts any premature indications of unoriginality, an aspect that unfortunately proves to be the faltering factor in most contemporary works of shoegaze. Moscow Olympics defeat the odds by providing just the right dosage of diversity and familiarity, resulting in tracks that can sit comfortably in your short-term memory despite the considerable intricacies of the presented structures and guitar-led arrangements.
Cut the World kicks off with "What is Left Unsaid", a track whose initial guitar progression sounds more like standardized art-rock than it does shoegaze or post-punk. The impression shifts dramatically though once an airy synth pad and additional guitar progression complement the original, providing a first glimpse of Moscow Olympics' agreeable tendencies. The faint sound of subdued vocals make their emergence after the progression builds deeply for a minute, resulting in an enjoyable hook when the vocals subside and the heightened pitch of the initial guitar progression becomes involved once again. "No Winter, No Autumn" is certainly more demonstrative of their post-punk roots, using a halted guitar correspondence reminiscent of Lawrence Hayward's Felt. The vocals regain the same composure as more shoegaze-oriented tracks like "What is Left Unsaid" and "Carolyn", but the instrumentation attributes to an excitable stylistic flair that should have fans of both genres in a state of bliss. For the album's most polished piece, the self-titled track does wonders to the band's formula. The track's verse treads for over two minutes as it builds up to amount to a sensationally effervescent chorus, a moment that serves as a highly enjoyable example of Moscow Olympics' salient songwriting. It also can be viewed as an excellent closer to a highly enjoyable debut that should genuinely satisfy fans of both shoegaze and post-punk.
——————————————————————————————
Moscow Olympics – Cut the World

[audio:http://mineorecords.com/mp3/moly-cut.mp3]
——————————————————————————————
Moscow Olympics – No Winter, No Autumn

[audio:http://mineorecords.com/mp3/moly-now.mp3]
——————————————————————————————
Moscow Olympics – What is Left Unsaid

[audio:http://mineorecords.com/mp3/moly-wha.mp3]
——————————————————————————————