Posted
July 15, 2008 by Mike Mineo
in Features
My Milky Way Arms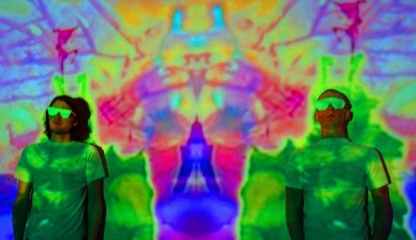 If I were to judge a group based on their press photos and self-provided information alone, My Milky Way Arms would be one of the most unique acts I have seen in quite some time. The trippy shot above is an ample indication of their otherworldly schematics, but it is the little biography on their web site that really caught my attention. As legend goes, half of the duo began a "spiritual quest" in the summer of 2007 as he headed north to a wintry destination where ice has obliterated most forms of life. Yeah, so far it may sound like the beginning of any typical superhero film, but it gets better. While there, he met Tim2K, the allegedly destined second member of My Milky Way Arms who had been sent by a wizard to discover his "spirit animal". So, while treading together through the snowy haze on a diet of melted ice and lamas bread, they stumbled upon a grandiose castle composed of ice and snow. They wandered inside and discovered a series of crystals that emitted a varying degree of frequencies. Manipulating their newly discovered instrument, both members began composing music at a remarkable pace. As the final step of their journey, they transposed their arrangements and headed back to society, eager to record and share their creations with the rest of the world.
The best part about all of this is not the raving lunacy presented that only an acid trip would seemingly induce, but that the duo's innovative music actually makes the story sound more believable than it should. By incorporating appealing aspects of shoegaze with an additional focus on neo-psychedelia and synth-pop, the Houston-based duo produce a sound that is as likely to put listeners in a dream-like trance as it is to make them want to get up and dance. Both situations contrast one another sharply, but the duo pull it off impressively with their sheer melodic prowess. Much like groups in the vein of The Flaming Lips and Slowdive, My Milky Way Arms' spacey demeanor often carries them to success, with their debuting release showcasing an exuberant form of potential. Going by their more mortal names of Grant and Tim, the approach works well with impressive creativity clashing with a tendency to tout their influences proudly. Their "isolated castle" may have just been a secluded bedroom and those "crystals" may have been a mere synthesizer, but they make do with whatever fantasy world suits them best. For fans of their music, it is simply entertainment for good reason.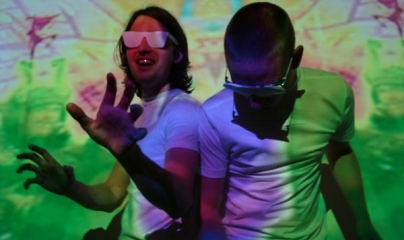 On their eponymous debut EP, My Milky Way Arms offer 5 very fascinating tracks that expose both their roots and heavy use of originality in commendable form. The tracks are often backed by several bustling atmospheric effects, usually in the form of graceful synth pads or key-laden tremolos. Such characteristics are vastly reminiscent of shoegaze and, when put in consideration with the large amount of reverb the tranquil vocals are laced in, it should be highly appealing to fans of the genre. For those who consider singularly classifiable forms of shoegaze to be too muddled though, there is something for you as well. Best evidenced by the excellent "Unbearable Lightness of Being", Grant and Tim build upon melodies with intricate structures and melodic additions that cause the level of enjoyment for each track to increase with each listen. This is where comparisons to The Flaming Lips and The Jesus and Mary Chain most often arise; it is through My Milky Way Arms' implementation of spacey rock and electronically enabled shoegaze that makes such influential comparisons possible. And while the EP only consists of a small sample size with its 5 tracks, each one exceeds 4 minutes and showcases the duo's elevated level of ambition to the fullest.
What is often overlooking in quality forms of shoegaze is the rhythmic involvement over more familiar aspects like droning guitars and echoing vocals. While My Milky Way Arms have too many characteristics of rock and electronica to be solely classified solely as shoegaze artists, "Soft Alarm" is a track that showcases all of their influences within an impressive rhythm section that causes the effervescent blend of guitars and keys to be stylistically invigorating. A refined bass line initially complements a steady propulsion of keys, backed by unruffled vocals that only pause for an excellent keyboard accompaniment that eventually ends up leading the track through its impressive finale. As I mentioned earlier, the brilliance of "Unbearable Lightness of Being" is a great display of the duo's striking songwriting. Utilizing a variation of vocalized harmonies over their usual blend of keys and guitars, the individualistic aspect of the track is evident most in the build-up presented during the first two minutes. When the percussion picks up pace dramatically around the 02:30 mark, the melodic forces collide into one cohesive blend and the track becomes a distinguished moment for My Milky Way Arms. For an EP just under 30 minutes long, My Milky Way Arms displays an immense amount of potential for a duo who should easily find a loving niche.
——————————————————————————————
My Milky Way Arms – Soft Alarm

[audio:http://mineorecords.com/mp3/mmwa-sof.mp3]
——————————————————————————————
My Milky Way Arms – Unbearable Lightness of Being

[audio:http://mineorecords.com/mp3/mmwa-unb.mp3]
——————————————————————————————
My Milky Way Arms – Magneto (Aahhh!!!)

[audio:http://mineorecords.com/mp3/mmwa-mag.mp3]
——————————————————————————————
Mike Mineo
I'm the founder/editor of Obscure Sound, which was formed in 2006. Previously, I wrote for PopMatters and Stylus Magazine. Send your music to
[email protected]
.