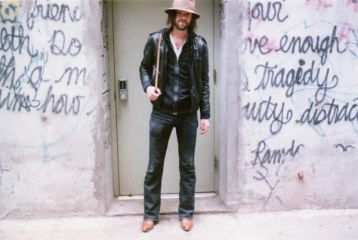 In terms of debut albums, David Vandervelde's The Moonstation House Band was easily one of the most memorable of 2007. Though he was singularly proclaimed by some to be little more than an entertaining imitation of glam-rock heroes in the vein of Marc Bolan and David Bowie, the actual songwriting presented on the album was innovative and captivating enough to cause such comparisons to be inaccurately representative of the Michigan-based songwriter. His soulful croon and classic-rock ideology certainly made the comparisons prevalent, but such striking similarities overshadowed the commendable aspects that Vandervelde crafted with supreme originality. In rare form for a debut, Vandervelde captured several moods and styles while allowing a sound that capitalized on a familiar sense of throwback rock to flow cohesively. From chugging radio-friendly gems in the vein of "Nothin' No" and "Jacket" to string-tinged ballads like "Corduroy Blues" and "Moonlight Instrumental", The Moonstation House Band brought plenty of satisfaction despite a length that just slightly reached past the 30-minute mark. His sophomore album, Waiting for the Sunrise, sees Vandervelde expand upon the length while attempting a more stylistically consistent approach. However, while Waiting for the Sunrise as a whole does not equate to the overall variety of The Moonstation House Band, Vandervelde's masterful touch is just as strong.
Considering that I was a sucker for the handful of ardent tracks on Vandervelde's debut that featured strings, I could not help but feel initially disappointed when I found that not one track on Waiting for the Sunrise prominently features the specific instrumental accompaniment. As I listened continuously though, I had to remind myself that such a reason for disappointment is largely superficial and baseless. After all, the songs themselves on Waiting for the Sunrise display some of Vandervelde's best songwriting to date. Considering that he has not taken any dramatically dissimilar approaches to his vocal delivery or any other aspects of instrumentation, fans of The Moonstation House Band should still continue to enjoy Vandervelde's craft. The consistent style itself is more centered on guitar-led tracks that are uplifted by lively acoustics and shimmering keys, led by production that is significantly sharper than its predecessor. The Moonstation House Band featured tracks that were often led by reverbed vocals and revolving arrangements with an emphasis on glam-rock and spacey ballads. The production on Waiting for the Sunrise remains in the vibe of '70s pop, but the songs are more subdued when compared to the vigorous string arrangements of "Wisdom From a Tree" and the distorted energy of "Nothin' No". That is not to say that Vandervelde has gone soft though, as some electric tracks like "Lyin' in Bed" and "Old Turns" serve as a few of the finest moments on the album.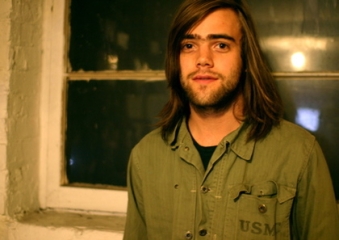 The slight transition on Waiting for the Sunrise is immediate, as the first two tracks in "I Will Be Fine" and "California Breezes" display the more restrained and lighthearted nature of the album instantaneously with its mixture of acoustic guitars, breezy keys, and firm percussion. Both may catch fans off guard initially, but once the chorus hits and Vandervelde reverts back to his accustomed vocal form then listeners should become at ease in recognizing the newly attributed stylistic tendencies that fare successfully for the most part. Falling at an ideal length of three minutes, "California Breezes" appears to be a destined single. Rarely has Vandervelde sounded so comfortable within an adjusted style, with this summery track in particular making the August release date look that much wiser. As easily the most accessible track on the album, "California Breezes" should be a surprisingly appealing listen for both old fans accustomed to Vandervelde's coarse throwback approach and new fans who have no clue what to expect. The following track, "Hit the Road", unfortunately suffers from an overabundance of repetition that consequently results in it being the least fulfilling track on the album, lacking the hooks and general cohesiveness that makes the other cuts so memorable. Fortunately though, it is instantly redeemed by "Old Turns". Led by a strong melodic display of Vandervelde's vocals, the track shifts between a series of guitar progressions and high-pitched keys during the excellent chorus in what is definitively one of the best moments on the album.
The second half of Waiting for the Sunrise is considerably more ambitious than the first, which is saying quite a bit considering the extremely enjoyable scope of "Old Turns" and "California Breezes". The interesting "Cryin' Like the Rain" sees Vandervelde return to Bolan territory with a near-falsetto that contrasts well with multifarious vocal harmonies. The instrumental accompaniment is minimal but the track's success is largely rooted in Vandervelde's melodic prowess, an aspect that is best shown in the way he implements a variety of vocal melodies over the twangy underlying progression. Strings are actually present here, although their usage is primarily used as a harmonically reflective entity. "Need For Now" and "Lyin' in Bed" are two consecutive strokes of success, both exceeding 6 minutes but doing so in constantly engaging form. In "Need for Now", the steady use of an organ guides several changes in key that are vital in building a plethora of intricately developed hooks. Like its preceding partner, "Lyin' in Bed" builds up momentarily for several verses until the final few minutes consist solely of instrumental supplementation, here being an epic guitar solo. Vandervelde's vocals are at a peak here as well, resulting in an impressively infectious listen. "Come back, come back around," Vandervelde pleads with genuine emotion, his vocals straining with emotion as the concluding solo becomes imminent. The song focuses on heartbreak with a prevalent tone of regret, seeing a conventional topic uplifted by Vandervelde's melodic brilliance on both a vocal and instrumental front. Like the majority of Waiting for the Sunrise, the success is determined by alluring songwriting and a confident approach to a style that Vandervelde can finally seem intent on calling his own. 8.0/10.0
——————————————————————————————
——————————————————————————————
David Vandervelde – California Breezes
[audio:https://obscuresound.com/temp/dvan-cal.mp3]
——————————————————————————————
David Vandervelde – Knowledge of Evil

[audio:https://obscuresound.com/temp/dvan-kno.mp3]
——————————————————————————————