Posted
August 1, 2008 by Mike Mineo
in Features
Obscure Sound: Best of July 2008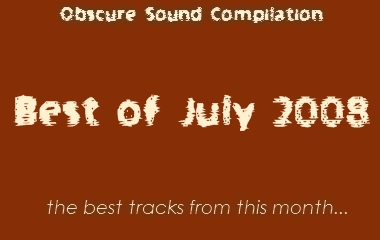 Here are the picks from July, a month that saw just about everything from stylish electro-rock to avant-garde "prepared piano" pieces. I'll be heading up to DC for college in two weeks, so I imagine that new opportunities will arise for the site's content. I'm not accustomed to living in a city where shows are actually conveniently located, so that should be a nice change of pace. I'm planning to expand the site shortly with more diverse forms of content, with several features and plans getting underway once the rush of classes subsides a bit. In the meantime, enjoy the compilation and variety of bands expected to be featured in the coming weeks, and have a great weekend.
01. David Vandervelde – Old Turns (post)
02. Kristoffer Ragnstam – Happy Mistakes (post)
03. My Milky Way Arms – Soft Alarm (post)
04. Faded Paper Figures – Metropolis (post)
05. Vanilla Swingers – Goodbye Lennon (post)
06. Late of the Pier – Broken (post)
07. Hauschka – Freibad (post)
08. The Asteroid No. 4 – Flowers of Ours (post)
09. Gentleman Jesse and His Men – All I Need Tonight (Is You) (post)
10. Stoney Clove Lane – Castles Fall (post)
11. The Mood – Masquerade (post)
12. Metronomy – Radio Ladio (post)
13. Tagaq – Tategak (post)
Mike Mineo
I'm the founder/editor of Obscure Sound, which was formed in 2006. Previously, I wrote for PopMatters and Stylus Magazine. Send your music to
[email protected]
.