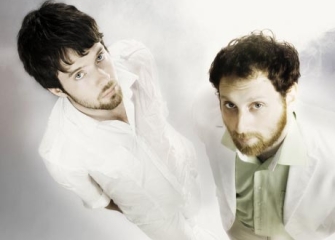 Even if the term sounds overly cliché, "late night music" may in fact be the best – and most common -classification for Junior Boys. One may begin to wonder how a style that reflects a specific period of time could overwhelm accurate musical classifications like electro-pop or indie-electronica to become a prevalently used phrase among fans and critics, but even a few listens to either of the duo's first two albums, Last Exit and So This Is Goodbye would answer this. Vocalist Jeremy Greenspan is often caught in a whisper, barely but audibly emitting simplistically thematic lyrics over an impressive array of synthesizers and automated percussion. This description alone likely paints a common picture for fans of electronic music, but what Junior Boys have done so superbly is not only rooted in their mastery of contemporary electronica. Instead, their success comes from an entitled sense of originality in a genre that all too often lacks even a slight hint of it. Electronic acts nowadays seem to either be grouped into two categories: throwbacks or flawed innovators. Junior Boys are one of the few that can sincerely say that their style is unmatched. And, as far as the aspect of their music that makes late night listening so special? Apart from the fact that their sparkling array of synths sounds fittingly beautiful while looking at a starry sky, their originality encompasses subtle tendencies that can only be enjoyed while away from the stressfully bustling characteristics of daytime.
With such descriptive tendencies in mind, it would make sense to proclaim that Junior Boys' most prominent attributes are those that defy the stereotypes of contemporary electronic music. The Canadian duo prefer smooth sax solos to messy synth explosions, hooks that do not derive from vocalized ardency as much as they do from the driving beat itself, and structures that are intricately progressive while still attempting to maintain the centralized pop ideology of accessibility. While their material may be too subdued to attract the largest crowd at some dance club, Junior Boys' atypical approach has led to the respect of most fans who value nonconforming stylistic ventures. Previous efforts like "Birthday" and "High Come Down" have shown the duo in a more accessible light with widespread structural consistencies, but they always seem to offer semi-experimental attempts in the vein of "Bellona" and "Under the Sun" side-by-side with the others. Their debut, Last Exit, utilized both melodic minimalism and fast-paced, club-like automated percussion to create a sound that was strikingly nostalgic. It also proved to be extremely tranquil, a rare quality for such percussively-aided electronic pop. So This Is Goodbye saw the duo explore their pop influences in a more prominent light, maintaining the same serenely captivating electronic allure of Last Exit while making the overall result more concisely accessible. For a sophomore album, it was a rare achievement in that it equaled and, to some, exceeded the magnificent quality of work demonstrated on Last Exit.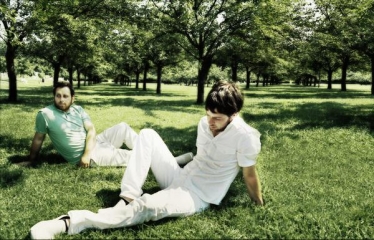 For their third album, Begone Dull Care, Junior Boys have found somewhat of a middle point between both of their preceding releases. Their grasp of illustrious pop music remains strong, even as several aspects of their music have taken a more constricted approach. Ironically, this constraint proves to be beneficial on several tracks, most notably on efforts like "Sneak a Picture" and "Parallel Lines" where the use of percussion is extremely minimal compared to their previous, more hectically involved works like on "Birthday". On "Parallel Lines", the album's opener, the percussion relies more on reverb and subdued flexibility than intensity. Combined with a bass arpeggio and a few percussively enabled samples, the introduction sounds surprisingly bare for Junior Boys' standards. However, as the track later proves, its build-up is dependent on its success. When Greenspan's vocals emerge nearly simultaneously with a brief electro-sax accompaniment and, later, a whirring synth pad, the listener is reminded of the infectious tranquility of gems like "Teach Me How to Fight" and "Neon Rider". For "Parallel Lines" though, the chorus is the real treat. After all accompaniments fade out, Greenspan re-emerges with a chorus that is repeated well over one dozen times. However, because of both the brilliancy of its placement and the subtle melodic variety occurring in the background, it never becomes tiring or repetitive. When Greenspan aggressively responds with, "No lights, no show, no sex; that's all you get," during one of the latter chorus' bridge, the ardent variation is utterly irresistible.
Another aspect of Begone Dull Care that slightly contrasts Junior Boys' previous releases is Greenspan's vocal delivery. He has always been masked behind a near-whisper and a substantial amount of reverb, an aspect that some call complimentary to Junior Boys' style and others call an attempt to hide a weakness. While Greenspan does not turn into some gaudy diva on this album, his voice is more prevalently involved in the songs. On "Bits and Pieces", one of the duo's most infectiously concise efforts to date, he alternates between a falsetto and suave electro-pop flamboyance. The song's structure is simple enough, but he brings the track to unforeseen heights during its bouncy chorus and seductively minimalistic verses. "Hazel" shows more of this vocal swagger, whether in the snappy verses or his disco-y "ooh, ooh, ooh" whimper during the club-like series of synthesized chords toward the track's conclusion. These moments are surely excellent, but few can rival the brilliance of "Sneak a Picture". Beautiful from its inception, both scratchy bass-like and fluttery synths collide in "Sneak a Picture" to establish an initially memorable melody that does nothing but get even better. When Greenspan's vocals enter the picture, he is only accompanied by a squirmy synth at the end of each measure and a high-pitched arpeggio. The latter remains steady for most of the track, but the track's brilliance derives primarily from a series of ingeniously constructed ideas that include a chorus that somehow finds the perfect meeting place between cohesiveness and precisely executed variety. The use of a saxophone may raise some eyebrows due to its simplistic usage, but considering that it takes up such a minimal part of the song I do not take much issue with it.
Considering that Begone Dull Care was written as an ode to animator Norman McLaren, it is hardly a surprise that the track entitled "The Animator" is also one of the album's most engaging efforts. Slick would be the best word to describe this one, with a contrasting array of twinkling synths and low bass notes colliding similarly to "Sneak a Picture" to once again establish a beautiful introduction. Once this song kicks off, you can almost begin to see Greenspan's thematically appropriate words go into motion over a bustling arpeggio and the warm embrace of a piano. "In through your hands, out your mouth in your whisper," he sings during the track's greatest hook, a collision of brassy synths, serenely atmospheric pads, and high-pitched arpeggios. With other gems like "Parallel Lines" and "Sneak a Picture" attributing to this ode just as well in both their namesake and content, Junior Boys have once again crafted a majestically cohesive album that fits nicely alongside both Last Exit and So This Is Goodbye in an impressively consistent discography that shows one of this decade's best acts in electronic pop. 9.0/10
——————————————————————————————
——————————————————————————————
——————————————————————————————