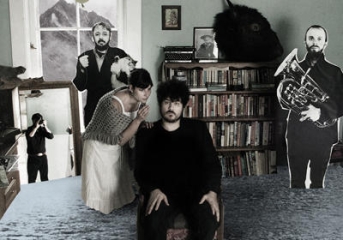 Richard Swift's scraggly beard, endearing voice, and piano-based delivery can all be indicative of the past in some way, but such superficial elements cannot even touch upon what makes Swift one of the most chronologically misplaced songwriters around. Instead, it is the methodology that surrounds Swift's material that makes him look somewhat out of place in the midst of glitzy songwriters who release an album once every few years and use their appearance to define their music. This ostentatious nature is an unfortunate plague to the modern music industry, but it also allows us to focus more on songwriters like Swift who never appear to be satisfied with their material, always working towards the next release in an effort for continuous improvement. His appearance is never desperately synonymous with his sound, and his work ethic implies a constant yearning for stylistic experimentation in an effort to acquire experience and apply that to his future releases. Like contemporaries in the vein of Spencer Krug or Noah Lennox, he is a songwriter who can be held accountable for one release or more per year that exhibits an ability to cultivate innovation from pre-existing ideas that are accessible enough to attract a significant audience. Unlike many songwriters, Swift has the ability to remain seemingly unsatisfied with frequently excellent work, adjusting it ever so slightly without ever emitting a slight tinge of desperation.
These examples of work ethic, concisely engineered degrees of success, and stylistic experimentation can all be derived from Swift's impressive discography, a collection bursting with different styles and approaches. The California native hardly adorns his material with bells and whistles, instead resorting to a generally straightforward production that shows off his raw skills quite unintentionally. You will find few artists today that continue to utilize a four-track, citing a lack of polish and flexibility. In Swift's case, though, he has shown that the method applies considerably well to his music. After first finding his love for performing music by singing in Quaker churches in his early teens, Swift spent the remainder of his teenage years working on his songcraft with a four-track by his side. He moved to Southern California at the age of 23 and recorded Walking Without Effort that same year. Already beyond his years in terms of artistic management, he chose to shelve the release because of his dissatisfaction with it. Consider this: You are a starving artist without a release to your name. You complete a couple of songs and they are polished enough for an average to positive response. Most bands or artists in this position would rush to put it out, probably in an effort to say that they "have an album out." This is what separates Swift from the rest. His ideology is so mature and selfless that it ends up positively overlapping into his music.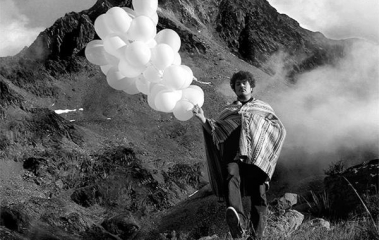 Since his sixth great uncle is the famous satirist and writer Jonathan Swift, one could say that good storytelling runs in Richard Swift's family. Naturally, his lyrical ability is wildly impressive and has been since the since the double-release of his first two albums, Walking Without Effort and The Novelist, in 2005 by Secretly Canadian. The primary theme of The Novelist was heavily indicative of Swift's forte, a writer who often comes across the romanticized perspective of unheralded artists. Simultaneously embracing all naturalistic aspects outside the realm of technology and toying with the idea of the overly romanticized artist, The Novelist was the first release that brought Swift some recognition. After that, the releases started to flow with Dressed Up for the Letdown in 2007, Richard Swift as Onasis in 2008, and now The Atlantic Ocean in 2009. He also released an album called Music from the Films of R/Swift under the alias of Instruments of Science and Technology, his ambient electronica side project, in 2008. While Walking Without Effort and The Novelist showed Swift's blissful interpretation of Tin Pan Alley pop, each successive release had a tendency to explore new territory without sounding like an overbearing stylistic transition. Much of Swift's material has been rooted in melodically rich pianos and rewarding hooks and these are the traits that have always remained constant.

Swift's new album, The Atlantic Ocean, appears to be his most stylistically decisive effort yet, opting for a highly enjoyable mixture of piano ballads and key-led pop, with an occasional guitar here and there providing for a touch of rock 'n' roll. The keys are often adorned with bouncy synths, a trait that makes tracks like "The Original Thought" and "A Song for Milton Feher" one of the best on the album. Swift's voice is endearing in a throwback sort of way, at times becoming startlingly reminiscent of the late Dennis Wilson and his brooding voice's ability to sound remarkable over a piano. Swift's material is a bit more excitable and upbeat, but a track like "Ballad of Old What's His Name" succeeds tremendously with a spine-chilling chorus that has Swift repeating, "Please don't you cry anymore," over a rollicking southern rock flair. The guitar progressions are later accentuated by a beautiful horn section, sounding stunning under Swift's excellent chorus. The equally outstanding "Already Gone" capitalizes similarly on Swift's ethereal vocals during the chorus, though this time it is preceded by a brooding piano as Swift takes on a nasally delivery that seems almost Elvis Costello-like. "You know I love you, so honey don't go, too many secrets you'll never knows," he croons in a near-whisper over the wavering of synths and a forceful piano. "But it's already gone." For Swift, it's only beginning.
Although he may be classified as such, Swift is not a throwback ideas. His ideas are much too original to be grouped into such a category. The sheer consistency of The Atlantic Ocean makes it an excellent album in itself, but one truly has to applaud Swift for refining an already-accomplishable style into something with a bit more kick. Even on stylistically differing tracks like the consummate synth-pop of "Hallelujah, Goodnight!", the intentionally distinctive image of '60s pop on "Lady Luck", and the steady folk-rock of "Bat Coma Motown", Swift succeeds on all fronts by providing diversity without sacrificing the heart of The Atlantic Ocean. Additional instrumentation like guitars, banjo, and horns make sporadic appearances throughout the album, and the various ways in which they are incorporated is highly impressive. Swift manages the gap between instantly receptive gems like "The Original Thought" and "A Song for Milton Feher" and invigorating displays of ardent triumph like "Ballad of Old What's His Name" and "Already Gone" with remarkable precision, and it is an attribute that makes The Atlantic Ocean one of the most consistently satisfying releases of the year. 8.5/10
——————————————————————————————
Richard Swift – Ballad of Old What's His Name

[audio:http://mineorecords.com/mp3/rswift-bal.mp3]
——————————————————————————————
——————————————————————————————
Richard Swift – A Song for Milton Feher

[audio:http://mineorecords.com/mp3/rswift-aso.mp3]
——————————————————————————————