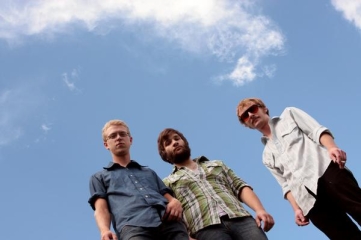 Saying that someone is "beyond their years" is such clichéd terminology, but to release an album like John Joseph McCauley III did when he was 21 years old is a feat that should be admired. As the frontman of Deer Tick, the Rhode Island native presented War Elephant to audiences in 2007, marking a debut that generated plenty of buzz regarding McCauley's lyrical prowess and stylistic astuteness. It appeared on my "Top 50 Albums of 2007" (#48) and many publications echoed similar sentiments, noting how it was one of the rare debuts that managed to turn a generally niche-y style into something that fit perfectly into the receptive realm of indie-rock. War Elephant showed a group with swagger, confidence, and the rare ability to blend staples of the past with personal favorites of the contemporary world. It was an album that found McCauley combining his love for old-fashioned folk and country with the indie-rockers that he looked up to in the late '90s when he was barely in high school, resulting in a release that found stylistic diversity while latching onto the original components that make McCauley so distinctive as a songwriter and vocalist. Whether he was strutting out throwback country-folk in "Spend the Night" or moody indie-rock in "Not So Dense", there were always components derived from McCauley's repertoire of skills that made the assortment of deliveries on War Elephant cohesive and memorable.
McCauley's vocals have always been one of these components, boasting a nasally whimper that creates excitingly suitable circumstances for the arenas of folk, rock, and country. These are simply referring to his primary genres though. McCauley's direction is often unpredictable, with the likes of Sinatra-like cabaret balladry ("What Kind of Fool Am I?") and Latin-tinged Wurlitzer pop ("These Old Shoes") appearing on the preceding War Elephant. With that being said though, all these stylistic ventures occasionally detracted from the focus exhibited on War Elephant, showing listeners that McCauley had the chops to try his hand at any style he desired while also highlighting his struggles with creating a thematically coexistent album. This prompted much discussion concerning his eventual follow-up album, now known as Born on Flag Day. McCauley's ambition is heavily prevalent, so accurately perceiving Born on Flag Day can be accomplished by judging whether or not McCauley has restrained his multitude of stylistic influences. War Elephant was a release tampered by quantitative judgment in its attempt to hold 14 different songs, with their styles and transitional success often varying. Born on Flag Day only boasts 10 different tracks, which in this case results in a more focused atmosphere that seems to value developmental progress more than the execution of concisely invigorating ideas.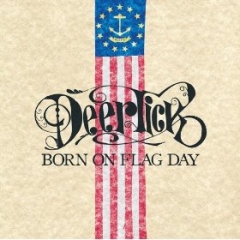 It is exceedingly appropriate that Born on Flag Day opens with "Easy", a track that is undoubtedly the most accessible Deer Tick track to date. After the guitar progression finds itself over an interesting assortment of percussion and the introduction subsides, McCauley's familiar croon arises with the same nasally demeanor and raspy ardency that made its appearance so memorable on War Elephant. Fans of McCauley's ceaselessly alternating epics – like "Not So Dense" or "Christ Jesus" – may be caught off guard due to amiable nature of "Easy", but it is difficult to resist a chorus built on such infectious melodic capacity. This is full-out indie-rock here, with influences like Modest Mouse and Built to Spill being more prominent than country or folk forefathers. The song delivers on a handful of guitar chords during the chorus, where McCauley sings out, "No, you don't know how easy it is." Unpredictable and ambitious it is not, but it is a radio-friendly (at least for McCauley) effort that eases the listener comfortably into Deer Tick's subtle quirks, which are significantly contributory to the successes throughout Born on Flag Day. The big-chorus tendencies of "Easy" show McCauley's efforts to expose this release as more stylistically comfortable and accessible, a demeanor that is also shown on "Smith Hill". Here though, a chorus drenched in strings and perhaps McCauley's most emotive vocal delivery yet is exposed, touching upon the alt-rock theatrics that previous efforts like "Not So Dense" hinted at.
The transition from folk-laced minimalism into an orchestral expansion is remarkably accomplished on "Smith Hill". McCauley carefully builds a simplistic guitar progression over a progressively appearing array of percussion, paving the way for a chorus where McCauley laments about true love being hard to find. Of course, the strings are a nice touch and the alterations in vocal pitch are fantastic, but the real treat in this song is the defiant bridge that resembles Billy Corgan in his heyday with McCauley's nasally croon supporting a hazy wave of strings and guitars. With the somewhat grandiose spectacles of "Easy" and "Smith Hill", it was wise to place the subdued "Little White Lies" in between the two. This, along with "Song About a Man", follows the minimalistic acoustical folk that longtime fans of McCauley should be more familiar with. The slide guitar and southern twang in "Little White Lies" reminds listeners that while the larger and more instantaneous scope of songs like "Smith Hill" and "Easy" are memorable, McCauley's melodic capriciousness and lyrical prowess is often all he needs for success. The lyrical content here is reflective of the album's theme, one that relates to coping with loneliness. This is also found in "The Ghost", a track that recalls The River-era Springsteen with its infusion of harmonicas into acoustical folk. "You're as lonely as a ghost on Halloween," McCauley whimpers, once again making excellent use of twangy slide guitars in a dramatic setting.
Songs like "The Ghost" and "Little White Lies" are hardly a departure from McCauley's previous material, but the hooks are stronger and the melodies are less coarse, even if it meant sacrificing some ingenuity in the process. These two tracks, along with the likes of "Song About a Man" and "Hell on Earth", achieve great success but see minimal durability due to the lack of flexibility in the structural composition. In attempting to more easily entertain listeners, McCauley sometimes lacks the grit that made most of War Elephant an entertaining affair, even if it was not the most polished album in the world. The somewhat generic "Straight Into a Storm" does not achieve much with its skiffle revivalism and "Stung" is a generally forgetful affair with six minutes or so of silence, but Born on Flag Day achieves success for the most part with efforts like "Smith Hill" and "The Ghost". Excluding the repetitive "Stung" though, the album barely exceeds 30 minutes. This is detrimental to album, as the two or three weak tracks here stick out too much to simply ignore them. Although Born on Flag Day is more cohesive and accessible than War Elephant, I cannot help but yearn for the gritty ambitiousness that made Deer Tick's debut so memorable. Perhaps if they can combine the melodic advantages of Born on Flag Day with the multifarious nature of War Elephant, McCauley and Deer Tick can live up to the ample potential that has deservedly been bestowed upon them. 7.5/10.0

——————————————————————————————
——————————————————————————————
——————————————————————————————
——————————————————————————————