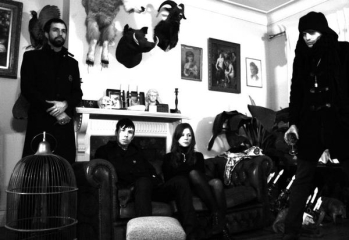 Like most stylistically unclassifiable acts, the sheer oddity of Cold Cave can only be explained by dissecting each member's role. And when each collaborator's presence is already shrouded in a unique enigma because of creative and somewhat intimidating content from their past projects, the supplied expectations surrounding the lack of conventional focus tends to make the unpredictable and unclassifiable more fun. In Cold Cave's case, each member's preceding fan base has come to expect their material to be filled with startling innovation. Consequently, there is no pressure to become increasingly accessible. Rather, with a new project comes a new opportunity to tweak an original formula and work with new collaborators to devise a sound that captures previous fans from all parties while remaining gripping enough to attract new audiences. One of Cold Cave's main members hails from one of the most acclaimed experimental-pop groups of the decade, Xiu Xiu. Another, under the alias of Prurient, is renowned for his ability to turn even the most conventional of household appliances into a full-blown orchestra. The leader, Wesley Eisold, has dabbled in everything from punk-rock to experimental noise while working with everyone from Karen O to Eric Paul. When attempting to understand which influences and ideas inspired Cold Cave the most, their cumulative experience makes coping with the occasional complexities easier. With a group as diverse as this, it is hard not to appreciate the fusion of creativity found on their debut album.
Despite his original ideas, Eisold has found collaborative consistency to be a struggle. He has fronted numerous projects, all attaining some form of success, but has not yet found durability in a working group. His various projects and aliases, ranging from American Nightmare to Ye Olde Maids, have primarily focused on a mixture of punk-rock and noise-rock. His most popular project was one of his first, Give Up the Ghost; the Boston-based punk group retains its cult following in Boston and many of its members have gone on to form successful groups like Head Automatica and the Hope Conspiracy. Eisold's recent work has involved more noise and general experimentation, and his most recent foray with Cold Cave shows a dramatic shift in composure for the songwriting veteran. Like a cross between the dance-pop of this decade and the explosion of new-wave and electro-pop in the '80s, Cold Cave sits between complexity and accessibility by featuring a style that borrows the unconventional noise-based experience of each member and an infectious grasp of electro-pop that makes it all go down easier. Xiu Xiu's Caralee McElroy and Prurient (Dominick Fernow) also make their presence known with vocal performances, production ideas, and general song composures. Fans of either Xiu Xiu or Prurient will certainly notice their subtle additions on varying tracks, whether it is prominent like the angelic vocals on "Life Magazine" or the Prurient-like minimalism of "Youth and Lust".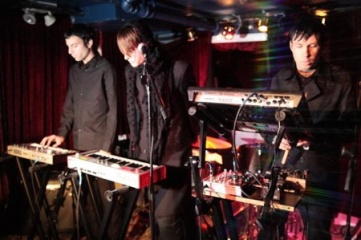 Despite the individualistic creativity of their past output, Cold Cave serves as one of the most accessible projects for Eisold, McElroy, and Fernow. Nothing suggests it is a cheap shot at recognition though. Industrial dance is hardly a genre filled with eye-catching innovations, but Cold Cave uniquely refine a style that many consider to be still lost in the surplus of '80s glamour. Their debut full-length, Love Comes Close, seems to configure the most enduring aspects of '80s electro-pop and integrate them into the world of contemporary production where noise, IDM, and ambience are all accepted music genres. Cold Cave's primary source of uniqueness comes from the variation on Love Comes Close, with each track possessing a different feel and melodic arsenal. "The Laurels of Erotomania" channels evolving IDM with its simplistic synth riffs being backed by aromatic keyboard chirps and deathly croons. Its emphasis on dance-tinged minimalism certainly echoes The Knife with Cold Cave's vocoder tactics being the most blatant reason for comparison. Similar progressions are found on the eerie "Hello Rats" and "Heaven Was Full", both tracks that feature quivering vocals with a seductive baritone. The incorporation of ominous synths and booming vocals make both somewhat reminiscent of Dave Gahan and Depeche Mode in general, the latter being present in the mood and overall tone of the track. As the legendary electronic band proved throughout the '80s and as Cold Cave do now, sounding undead over the sound of ominous synthesizers can be oddly invigorating.
Tracks like these certainly establish the feel of regret and forlorn loss that dominated '80s electro-pop, but Cold Cave go beyond simple imitation with tracks like "Life Magazine". This one plays like a more upbeat Black Box Recorder, complete with the seductive female vocals and accompanying synths that make this more bubblegum-pop than electro-pop. The vocals repeat themselves in a very distant echo, with the overdubbed reverb acting appropriately as a durable manufacturer of various hooks. In addition to the gloomy industrial tracks and the chirpy allure of "Heaven Was Full", efforts like "Love Comes Close" perfectly capture the grace and ability of '80s revolutionaries like The Psychedelic Furs and Felt. The vocals sometimes seem dry and awkward, but this actually plays off like a benefit because it brightens the impressive arrangements even more with a more personable connection in the vocals. "The Trees Grew Emotions and Died" certainly looks to have a hand from Prurient, mainly because of the unconventional range in pitch and prominent percussion. Like his previous work, the track is unpredictably filled with concise samples and odd rhythm sections that cling and clang over the main arrangement. The difference serves as a stylistic expansion due to the parts of Eisold and McElroy, both of whom contribute an electro-pop edge to his inaccessible yet oddly captivating material. Cold Cave's debut full-length is definitely worth a look for fans of noise-pop, contemporary dance, and '80s electronic. It can occasionally border on mocking a genre that many deem outdated, but for the most part Love Comes Close is a successful debut that showcases the unique talents of the three primary members.
——————————————————————————————
——————————————————————————————
——————————————————————————————
Cold Cave – The Trees Grew Emotions and Died

[audio:http://mineorecords.com/mp3/ccave-tre.mp3]
——————————————————————————————