Posted
September 2, 2009 by Mike Mineo
in Features
Obscure Sound: Best of August 2009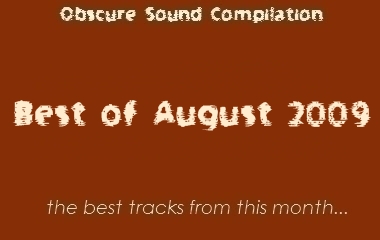 Even though September brings some of the greatest weather of the year, there is always reason to students to dread its arrival. It is not so much the concept of classes, but rather the obligations that arise from them. I despise having irrelevant topics forced down my throat and ordered to write a generic paper on it, but in the world of journalism I suppose it is something that we all become accustomed to. This year should be better than last though, especially because I transferred to a different university. DC did not treat me particularly well, so it is nice to be in a city that is both familiar and fulfilling to me. Manhattan has treated me very well so far, even if I know absolutely no one here at the moment. Still, I look forward to meeting a bunch of people and taking advantage of my location in Chelsea. I thought I would cover a substantial amount of shows and events in DC, but the city's insufficient arts scene led that nowhere. Now I have no excuse, so expect plenty of related content from the city that never sleeps.
As for this month's compilation, August encompassed a variety of different styles. The Wiyos and Kill It Kid both incorporated a Piedmont blues influence that clashed with modern rock and folk to create a uniquely memorable impression, while The XX have gained tons of buzz since I wrote about them in the first week of August. Popularity and critical acclaim seemed imminent for them at the time, and I was merely within the first wave of press that lauded them for their excellent debut. Volcano Choir concluded the month with one of the more satisfying releases of the year thus far. It may not contain the most accessible tracks of the month, but their mixture of minimalism and folk provided listeners with a sound that was arguably incomparable to anything new they heard within the past few years. Enjoy the compilation and best of luck to any new students entering another year full of deadlines, essays, and occasional fun.
01. The XX – Basic Space (post)
02. Volcano Choir – Island, IS (post)
03. Holiday Shores – Edge of Our Lives (post)
04. Kill It Kid – Burst Its Banks (post)
05. Reigning Sound – Debris (post)
06. The XX – Crystalised (post)
07. The Wiyos – Promenade (post)
08. Dan Mangan – Robots (post)
09. Volcano Choir – And Gather (post)
10. Kill It Kid – Send Me an Angel Down (post)
Mike Mineo
I'm the founder/editor of Obscure Sound, which was formed in 2006. Previously, I wrote for PopMatters and Stylus Magazine. Send your music to
[email protected]
.