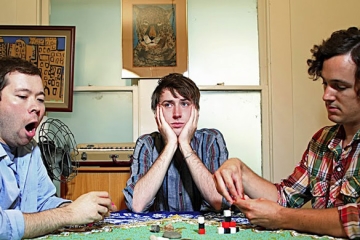 When looking back to our high school days, many of us can likely remember reading Thoreau's Walden. Even those turned off by the primary philosophy of transcendentalism have grasped the value of such a classic, as Thoreau's isolated musings concerning self-sufficiency and civility seem even more relevant today in an age distancing itself from such aims. The likes of Emerson and Thoreau are covered extensively in high school as a result, for its fusion of philosophy and sociology still encompasses a rare contemporary relevance. Brazos' new album, Phosphorescent Blues, inherits that same kind of relevance with a similar sense of social isolation and self-contemplation. Recorded in his reclusive South Austin home, Brazos frontman Martin Crane injects a series of classic naturalist themes in an intimate showing of folk and alternative-rock strongly indicative of both his poetic and melodic capabilities. While Walden showed Thoreau's "life in the woods" as breakthrough personal meditation, Phosphorescent Blues represents Crane's commentary on life's most imminent and affecting tribulations in the perspective of external contemplation. Despite the chronological and reputable differences of the two works, this examination is their meeting point.
To detach oneself from society is exceedingly difficult to accomplish on its own, but to actually provide objective analysis on essential topics like instantaneous love, evolving friendship, and death itself while in this state reaches near impossibility. Perhaps the conceptualizations of eros, philia, and other classic philosophical theories were precursors to such attempted objectivity. Such ideas demanded the solely human function of reason and, whether one agreed or not, the fact that one could reason and determine their own disposition was objective enough for historical purposes. Phosphorescent Blues is so easy to relate to that its exposition of intricate concepts come off in a way that is lighthearted without being offensive. You know how your best friend tends to complete your sentences? "My Buddy" covers that with wit and caressing layers of surprisingly melodic distortion. What about that person in your life who offers great sex but nothing else? "Day Glo" medicates it with humor, joined by a droning style of key-tinged folk that recalls Phoenix with its abrupt elegance. Initial listens may reveal Brazos as little more than another variation of Little Joy or Fool's Gold with their upbeat bursts of indie-rock corroborating with Afro-pop rhythms and folksy vocal sentiments, but their delicate procedures in touching upon these oddly relevant topics with sociological precision and varying musical ambitions are indicative enough of their separable ability.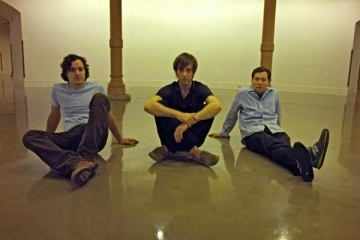 The Austin-based trio are bound to attract enough attention with their constant wit displayed throughout Phosphorescent Blues, their first full-length after two EPs were released in 2007. Opening for Grizzly Bear, Vampire Weekend, and White Denim built up plenty of deserving hype for this, and the ten tracks on Phosphorescent Blues do not disappoint. Specifically, the unique nature of each track brings out a resoundingly strong effort that should contend for one of the year's best full-length debuts. One of the reasons for this is how the trio is able to transcribe life's complexities into a humorous or witty vein. "I don't mind dying when I make love to her," Crane sings on "Day Glo" before an entry of trippy brass unexpectedly descends upon the acoustics and keys. "Close but not close, far but not too far away." Many of us have been in a relationship at some time that has reached its breaking point, to which we know bring decisions that were not fathomable a few months prior. This song perfectly touches upon this sticky situation, not just in a meditative manner but also in a humorous vein to provide welcomed lightheartedness in a topic where somberness is already prevalent enough. The keys that seem to dance and mingle under Crane's quivering voice brings to mind a versatile folk artist like Andrew Bird, though Brazos do express more variation in tempo and style. Stylistic versatility, intelligent contemplation, and melodic captivation are all characteristics of Brazos, as any song on their beautiful Phosphorescent Blues could tell you.
RIYL: White Denim, Grizzly Bear, Phoenix, The Veils, {{{Sunset}}}, Sound Team, Andrew Bird, Jens Lekman

——————————————————————————————
——————————————————————————————
——————————————————————————————
——————————————————————————————