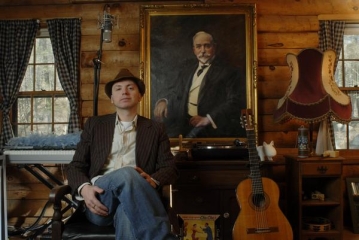 England is one of the last places I would expect a musician to be "bored", especially if they are native to the country. Its rich history aside, every major label houses an office there and there are certainly a surplus of venues present, not to mention an endless list of British influences to get inspiration rolling. It has all the privileges of the American music scene in a more condensed geographical area, which only helps in making European tours more convenient for the locals and artists alike. It was not singularly the people, music industry, or potentials of the UK that made Chris Hicken leave his native Birmingham, the second most populated British city (and home to the likes of The Moody Blues and ELO). Obviously those bands had little issue growing up in Birmingham, but like Hicken they eventually relocated after sincerely valuing their musical ambition. "It seemed very natural to me, something I could be good at," said Hicks, who always showed glimpses of musical talent despite learning difficulties like dyslexia interfering with his school work. "Very quickly it became all I wanted to do." Although there remain groups (primarily in the art-rock, Arctic Monkey-ish vein) that maintain significant success in the UK while encompassing a large US following, it often pertains most to a group's style when determining which country they would fare best in.
Both the US and UK possess very similar mainstream tastes in regard to music, arguably more than ever before due to music's new level of accessibility. We are seeing more simultaneous Euro-American successes more than ever, which opens up a nice opportunity for Hicken. The Birmingham native has always been enamored with American and British folk music alike, but his rarely complex taste at an early age allowed him to differentiate between the two country's distinctive musical styles (which was a lot easier in the preceding decades to this one). His preference as an artist seems somewhat obvious, though much of it can also be accredited to the assimilation that took place after moving to New York City in 1993 with his then-band, Bigmouth. This project saw little attention apart from opening for UB40, but it opened up plenty of opportunities for Hicken. Times in the city were pretty routine for Hicken after Bigmouth was abolished, as he went to work as a bartender in the East Village before kicking off his solo career with 2004's Championship Boxing. This job was actually where his alias, Cantinero, derives from; his Ecuadorian co-worker had always called him cantinero, which means "bartender" in Spanish. Prior to that he was actually contemplating starting his solo career with electronic experimentation, prompted by a recent fascination with Boards of Canada. Entertainingly enough though, Hicken was so touched by the musicianship on Ken Burns' Jazz documentary that it made him reconsider going for a more natural sound.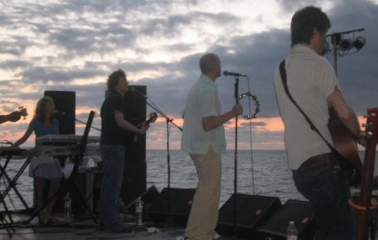 Hicken's follow-up Better for the Metaphor continues upon the infectious alternative-pop that Championship Boxing so effectively conveyed. Hicken's style of alternative-pop touches both the eccentric folk of an Andrew Bird or Devendra Banhart while reminding listeners of a charming vein of power-pop where electronics are not entirely prohibited, but instead ushered in sporadically to maintain the natural harmonics of the power-pop or alternative-rock. (think Phoenix, Holopaw, Califone, Royal City, etc.). Hicken's tendency for anthemic choruses and a boatload of hooks allow him to sit comfortably in both genres, combining both British and American schools of pop music to produce an album that improves upon Championship Boxing in its sheer diversity. The opening "My House" describes Hicken quite nicely as an artist – straightforward lyrics, bouncy variations of keys and percussion, and a chorus that strikes gold. What makes Hicken such an accomplished pop songwriter and a track like this is the variation between momentary transitions. While "My House" is mainly an ode to proper gratitude, Hicken avoid monotony by implementing a variety of successful techniques. Whether he temporarily subdues the percussion or brings in a masterful keyboard progression to accompany an already-familiar melody, every small contribution leads up to a plethora of efforts that are accessible and contagious.
Whereas Championship Boxing supplied us with a fusion of folk, pop, and electronica by providing samples of an acoustic nature with natural instrumentation, Better for the Metaphor succeeds even more because of Hicken's willingness to play it all himself. A talented multi-instrumentalist for sure, this effort sees less in the way of samples and more naturally constructed hooks. "Go-Getter" is reminiscent of Beck so much that, without Hicken's unique vocal range, it would be difficult to distinguish between the two. Like Beck's best and earliest work, "Go-Getter" an instance of awe-inspiring stylistic multifariousness. As the rhythm section hints at a story based around smooth-flowing jazz, Hicken's rushed and hushed vocal delivery sounds tranquilly suitable for chillout electronica instead. The gurgles of synth that he introduces prove surprisingly compatible with the natural acoustics of a piano, and this chorus-focused element serves as the primary source of melodies reflective of alternative-rock or power-pop. This is precisely Hicken's most treasured ability, one that allows him to introduce various genres with instrumentation that would be contrary to popular belief. Whether he is incorporating psychedelic nostalgia into maudlin ballads or jazzy rhythm sections into electronic ambiance, it all comes off so cohesively that these short pop songs expand into a more memorable territory. There are plenty of these tracks on Better for the Metaphor, which is finallyE seeing a wide release after its initial pressing in 2007.
RIYL: Beck, Phoenix, Holopaw, Califone, Royal City, The Sea and Cake, Marjorie Fair, Apollo Sunshine

——————————————————————————————
——————————————————————————————
——————————————————————————————
——————————————————————————————